Marketing newsletter campaigns are today's most powerful means of boosting more sales on holidays (and in general). 
The first thing you need for starting faultless marketing newsletter campaigns is to collect a solid e-mail list. The most optimal way of doing this is the usage of a nice subscription popup.
Once you start sending e-mail marketing campaigns to your customers, it's super vital to listen to any feedback you get from your subscribers. Always keep tailoring your e-mails based on how they perform. 
There are special days in the year that the newsletter e-mails are a must. You should remember to send them and you can be sure that the engagement on those days will be guaranteed. To capture more visitors and drive more engagements, you can also use holiday popups, such as Easter popups, Father's Day popups, Black Friday popups, and so on. 
I'm talking about holiday marketing newsletter campaigns that offer various sales and gifts to the subscribers/customers and bring more proceeds to your online business.
Why is newsletter marketing so important on holidays?
First of all, this is a chance you should not lose to get more sales. You will definitely get more sold-outs these days, as when there are discounts, there are always more sales.
Secondly, this is an exceptional way to show your care to your customers. Everyone is waiting for promotions with discounts, gifts, etc. on holidays. This is why your newsletter e-mails matter these days.
This is a perfect practice to get stuck in the minds of your customers. Just one attractive newsletter e-mail and they will remember your store forever!
This is a "must-have" in the market, as you ought to habitually keep your service in the mood of that moment. Keep up with the holidays, share the mood of your customers, and offer noteworthy deals to get more income.
Now, let's check some very useful e-mail marketing campaign examples that will keep your sales high on those special days. 😉
Ho Ho Ho Sales Alert!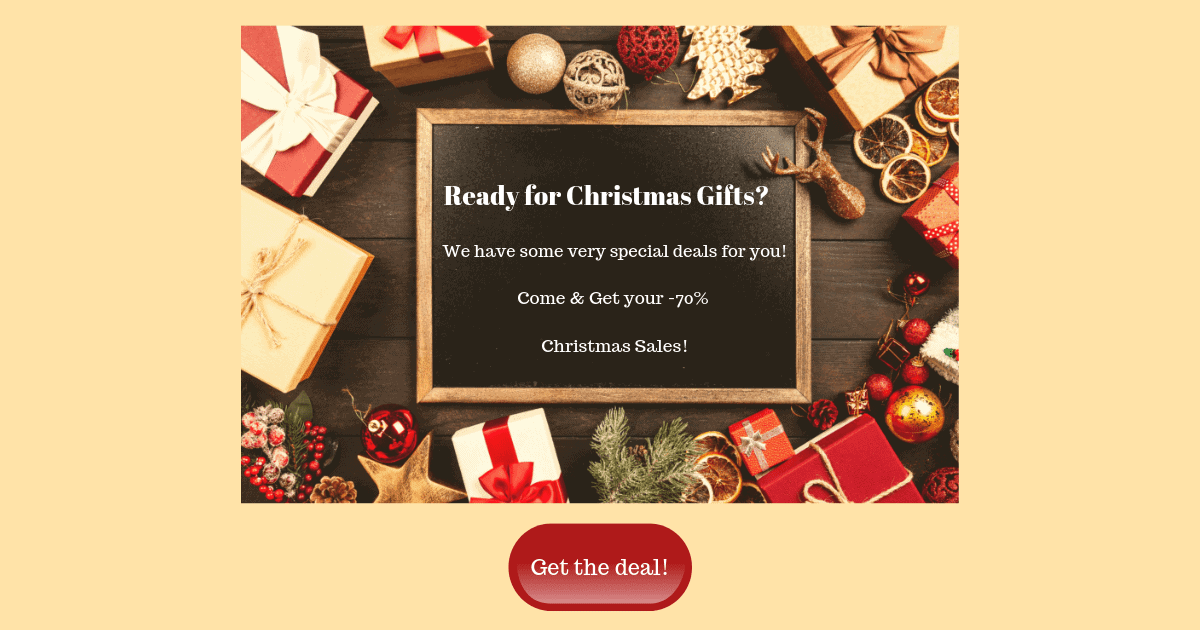 It's the most gift-full time of the year. 🙂
All of us are impatiently waiting for the Christmas holidays to get gifts and celebrate. Besides the real gifts, we do expect great sales from online shops and the services we use. 
All of the online shoppers will state that Christmas sales are something we wait so passionately to make the shopping of the year. Buy presents with discounts, enjoy the spirit of the Christmas holidays, having the best shopping at the end of the year.
This is why it's important to take major care of the New Year (Christmas) marketing newsletter campaigns. This keeps the customers engaged, increases sales, and creates a feeling of joy and happiness. This is something that will doubtlessly build a firm bond between you and your customers.
Girl Power Sales On!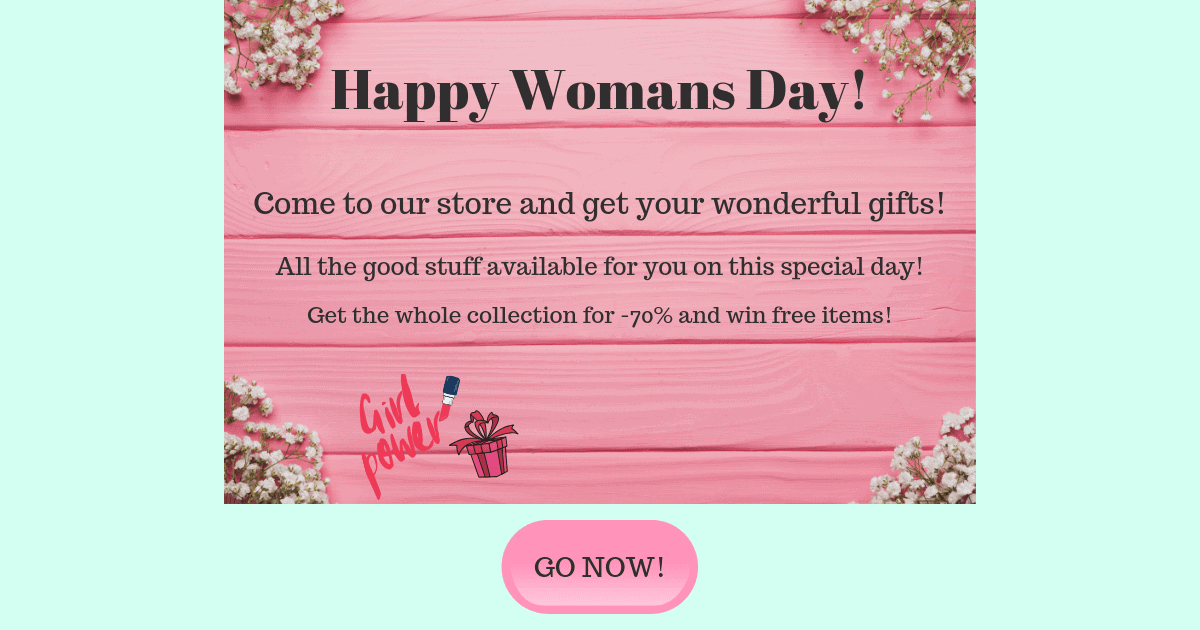 Women's day is one of the most nominal holidays for any online shop owner. Let's be fearful – the majority of the online store shoppers are women and girls. This is the main army of any online store, especially if it's a clothing store or a self-care one. Women are the ones who enrich online shop owners the most. So this is one of the reasons the online shop owners should take care of the ladies and be there for their special events.
International Women's day is one of the hugest events for the ladies. This is when they expect presents, gift cards, sales, and all that jazz. 
So, as a clever and attentive website owner, you just have to arrange marketing newsletter campaigns on this special day, sharing love and gratitude with your shoppers.
Black Fri-Yay!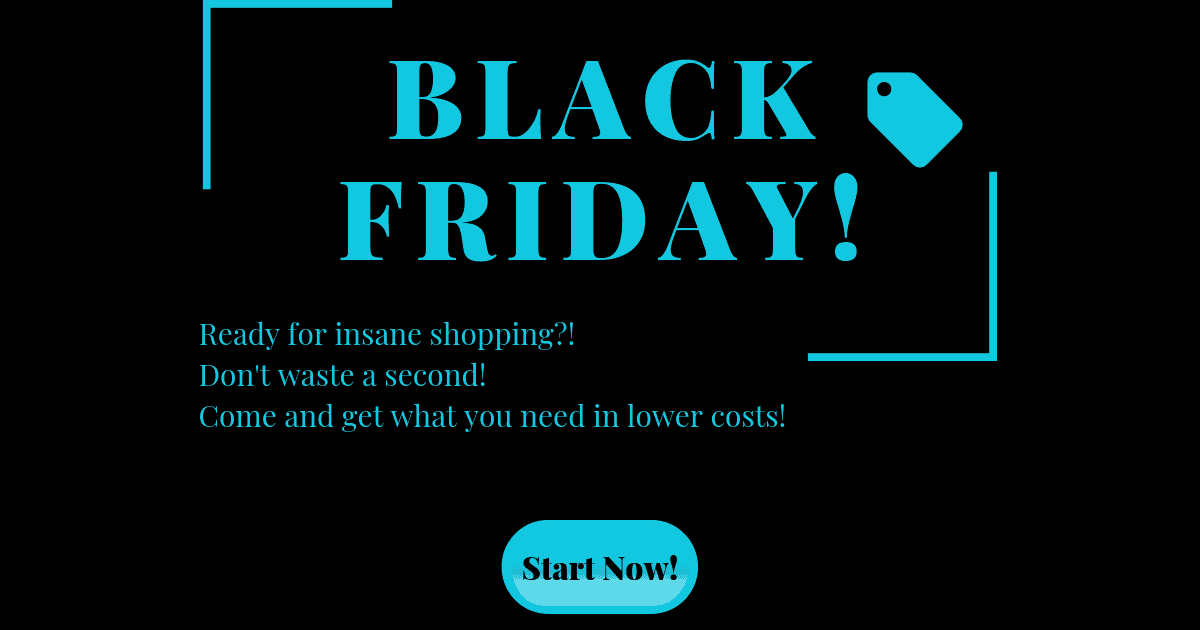 All the true shoppers and online habitats are waiting for this special day the whole year. Black Friday is a day that shoppers all over the world are looking forward to the whole year.
Whenever we have some things to be bought, be that electronics, clothes, cosmetics, or other goods, we are waiting for Black Friday in hopes to get what we want at a lower price.
Every shop owner is perfectly aware of the magic of the Black Friday sales. This is one of the greatest days of the year when you have the most sales ever. The point is just to get prepared for it beforehand and inform your customers with reminders in order not to miss the day.
The perfect Black Friday newsletter campaigns should be sent a week before the special day, to attract and involve as many shoppers as possible. 
Conclusion
Now let's sum up to see what's the most important point of starting a perfect marketing newsletter campaign that will bring more income to your site. 
First of all, we should take care of the e-mail list, it should be vast to have the best success. And what can help you collect more e-mails if not a perfect subscription popup?
After you gather a solid e-mail list of subscribers to your newsletter, you should think about the special events and nominal days when the newsletter campaign is most needed.
Take all the popular holidays in the year and make a newsletter celebration out of them. Create and send out enchanting and attractive campaigns to your subscribers and get them to shop in your store. What can be more convincing if not a good sales alert? Share discounts and gifts with your customers on holidays and you will never be a lack of shoppers.