Geo Targeting by Countries
Display effective country-based popup campaigns to show your offers for each region (country) specifically.
Country-specific offers
Country-specific offers are the fundamentally best way to bring a great revenue to your site. Imagine popups shown to each region in their own languages! It will for 100% bring you more conversion.
Targeting visitors by their countries is a perfect strategy to gain more customers and subscribers. Show country-specific offers, that will best interest the specific nations according to their culture and other characteristics.
This is a perfect means to demonstrate various popup offers, like holiday sales, for instance.
Besides the international holidays that are celebrated by most of the countries in the world, there are country-specific ones. Geo-targeting option will allow you to demonstrate various optin popup offers with holiday sales for each country famous holidays separately.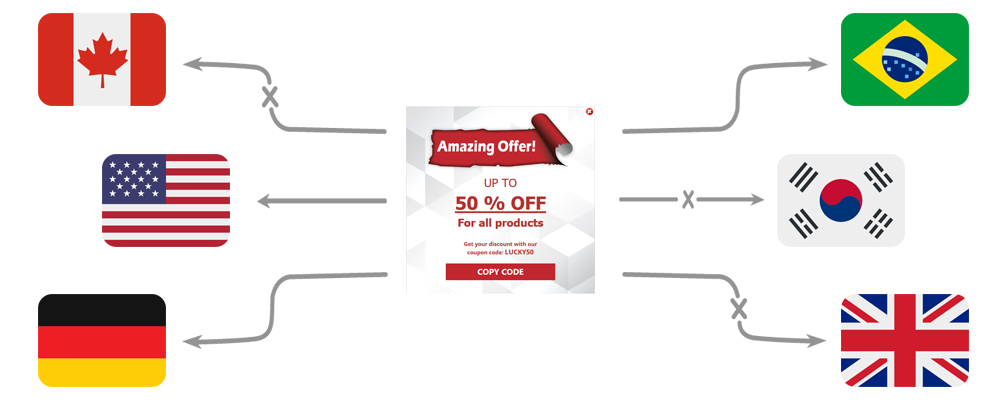 More Sales
This practice will bring you a guarantee for more sales and a bunch of new subscribers. Develop your website marketing with clever country targeted subscription popups and reach more success in a short time period.
Your website will become internationally famous and developed if you use this option to show specific attention to the visitors of each country separately.
Consider the time zone of the countries you show the specific website popups to uplift the conversion even more. Make sure you're making country-targeted popup offers on an appropriate time, to reach out to more users.
You are free to separate the countries you want to include in your campaign and show the optin form to them, as well as exclude the countries from your campaign.
When it comes to targeting, you must be more intuitive and know well which offers should be shown to specific countries.
Like, you can show winter collection popup offers to any country but West Africa, India or some other countries that have summer all year round. And vice versa, show summer collection to those countries specifically.
One of the main keys to the success of any website is the attitude to the users. Show them you care about them. Geo-targeting can be a great help for you, in this case, to show individual kind of offers to your users.