Date Range Scheduling Popup
Show different popups for specified days of week, on certain time repeatedly.
Scheduled Popup Campaign
A scheduled popup by days of week, is the most outstanding way to show various proposals with date limitations, proposals which are handy for some limited amount of days. Demonstrate your holiday sales that are handy for a couple of days via Schedule popup option.
Implement this unique option to schedule your special proposals. Eventually, target more new visitors with enticing responsive popups shown on specified days. There's no necessity to add and enable the popup every day unless the offer is no longer available.
Go ahead and build up your lightbox popup proposal once. Set up the date range during which your responsive popup will be shown to your website visitors, and that's it. Just watch how the visitors will convert and your sales will grow.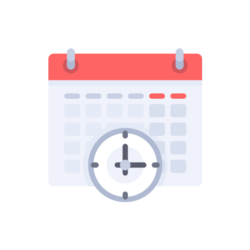 Popup Targeting in Date Range
Date range targeting is a perfect solution not only for holiday sales, for example, but also for other broadcasts. If you are planning a webinar on your website, for instance, you can build up a "broadcast popup" and schedule it to be demonstrated until the day of the start of your webinar. This will certainly bring more new visitors to your webinar courses and you'll have a great success in this way.
Scheduled popups are a great help for busy website owners, that have no much time to spend on campaigns and need guaranteed results without much effort. A lightbox popup is created once and will be shown for the period they wish, with the scheduling option enabled.
Date range targeting will help you get rid of the annoying process of enabling and setting the same popup every single day on your website, showing it for a couple of days. The process is much easier and practical now.