Every company's success partly depends on the website they run and the online marketing they develop for more revenue. This is not a top secret at all that online marketing today has the most powerful of all the other ways of marketing. If you want to win more revenue for your business, you should think about developing clever marketing strategies.
One of the most robust means of victorious online marketing is pop-up marketing. 
Ever heard about pop-up marketing? I'm sure, you all have seen those little popping-up windows that appear on the page offering some deals.
Of course, sometimes they can be really annoying and can hurt the whole campaign if used not carefully. But if you ask all the famous and successful companies out there, you will believe in the power of pop-up marketing.
The Golden Rule For Popups
There's a golden rule in pop-up usage you should know to have success with pop-up marketing – show popups at the right time, at the right place to the right audience. Just don't be pushy and try to promote your brand in a neutral way. 
So many pop-up types are known for victorious pop-up marketing. Like Subscription popups, Sign in/Sign up popups, Coupon popups, Contact form popups, Web Push Notifications, and many more.
The point is to find the best popup-creating tool that will provide you with all the easy means of creating any popup possible. Be sure it's easy to use, has many customization options, is affordable in pricing, and has good responsive support (this is really important). If you have found such a tool, be sure you are in good hands and your business is going to boost. 😉
Now, let's check some 10 super-popular companies that use popups for the promotion of their official websites. You'll be surprised!
Amazon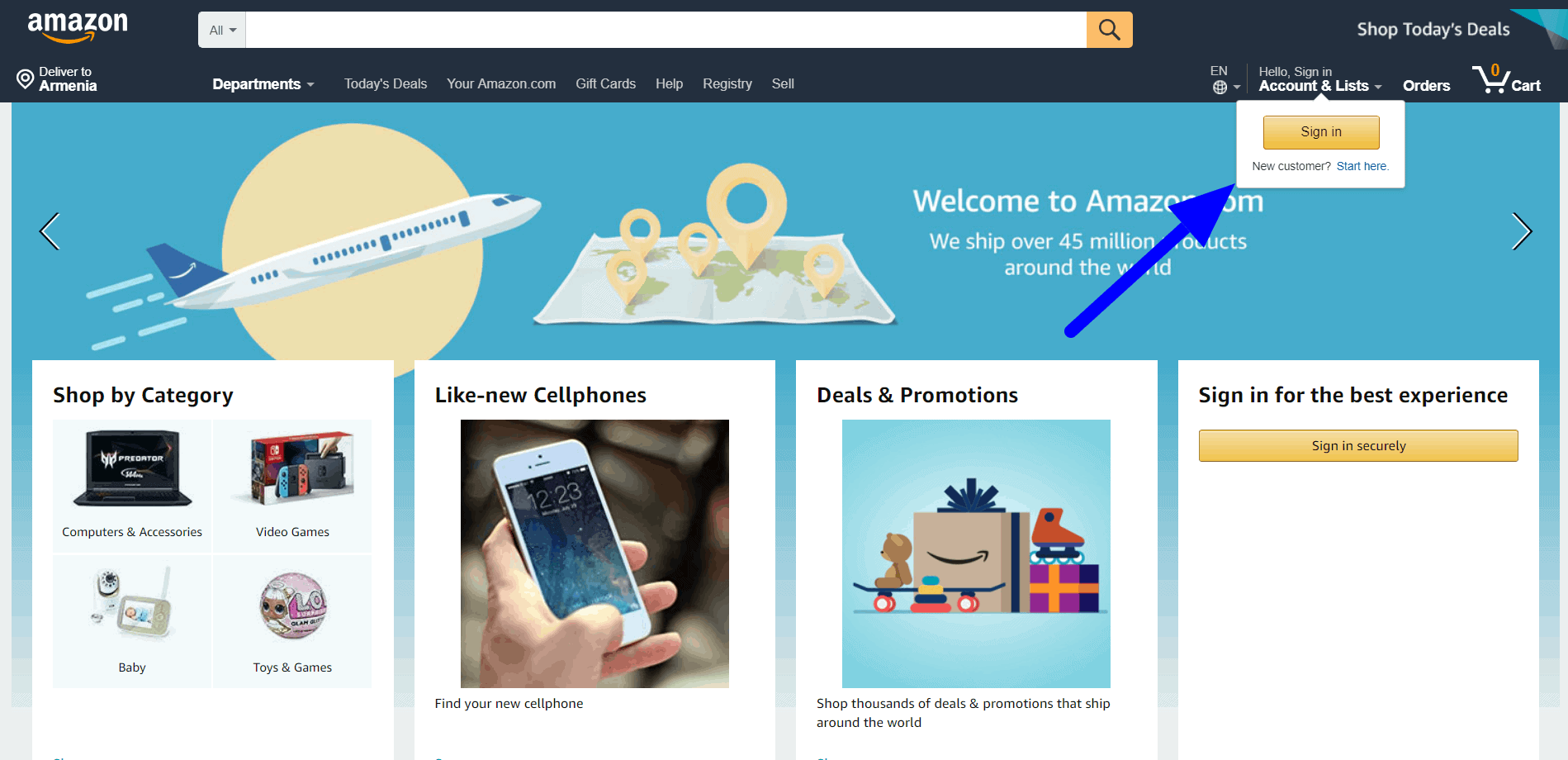 Amazon is one of the biggest eCommerce companies in the whole earth. It offers any type of products from all over the world that one can order sitting at home.
For sure, Amazon has gone really far in the sphere and this is due to the intelligent marketing it implements for the promotion of the website.
Yes, this eCommerce magnate is one of those who use popups on the website. Amazon uses a tiny popup for "Sign in" to the website. This is a very responsive and clear way of using a popup window to make the process more compact.
McDonald's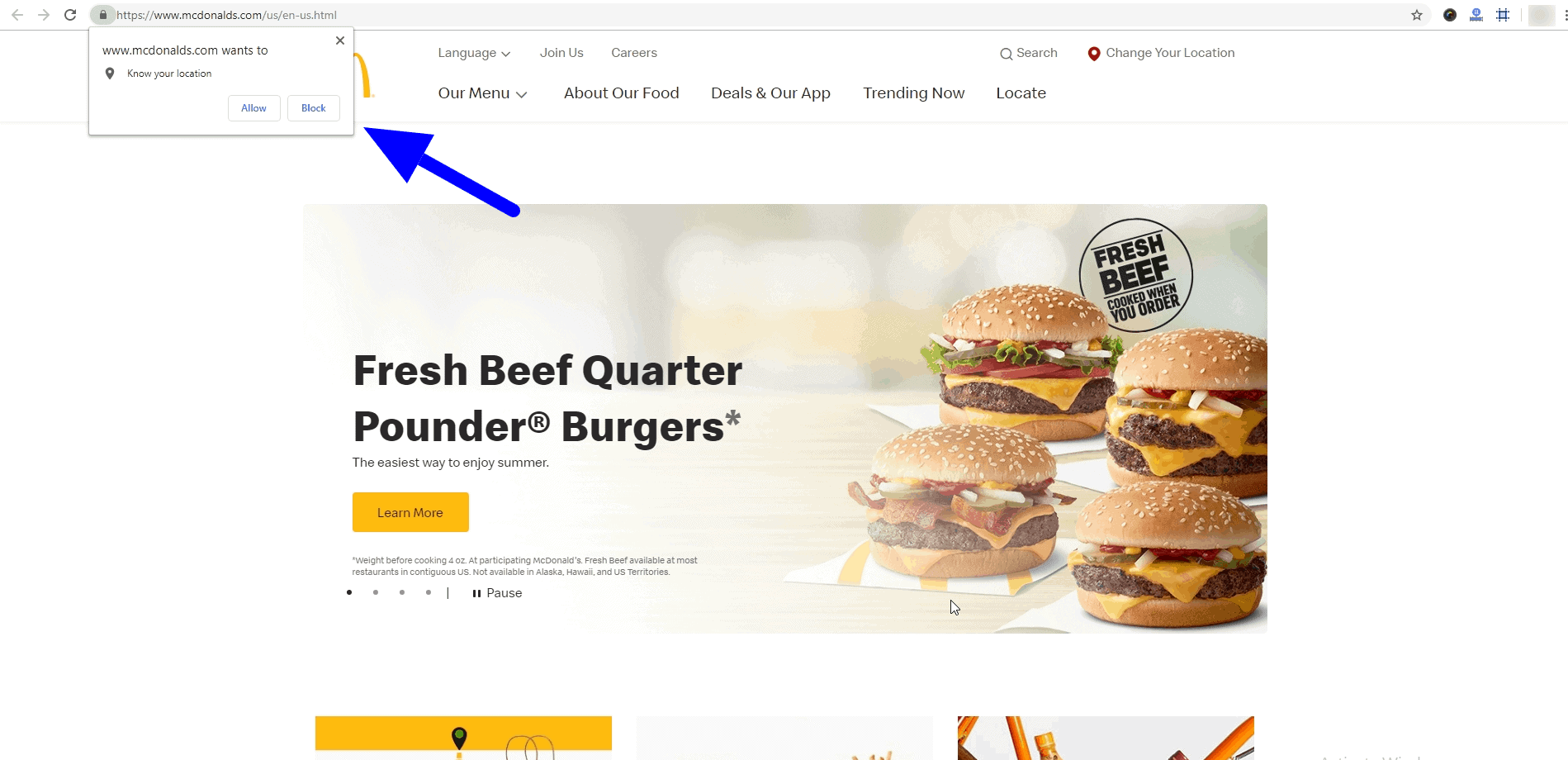 Everyone in the world perfectly knows the name McDonald's. I mean, there's hardly someone who hasn't even heard about it, at least on TV. 
Today, McDonald's is one of the most powerful fast food restaurants nets in the whole world. There are about 37,855 restaurants in 120 countries and territories around the world and serve 68 million customers each day.
You can only imagine what a huge group of marketers is working on the development of the business including the official website.
McDonald's uses popups on the site as well. It's actually a better version of a popup implementation – web push notifications. These are notification types working on a browser level. The user allows sending him notifications once and you can always keep the connection, no matter if they are on your site or somewhere else on the net.
L'OREAL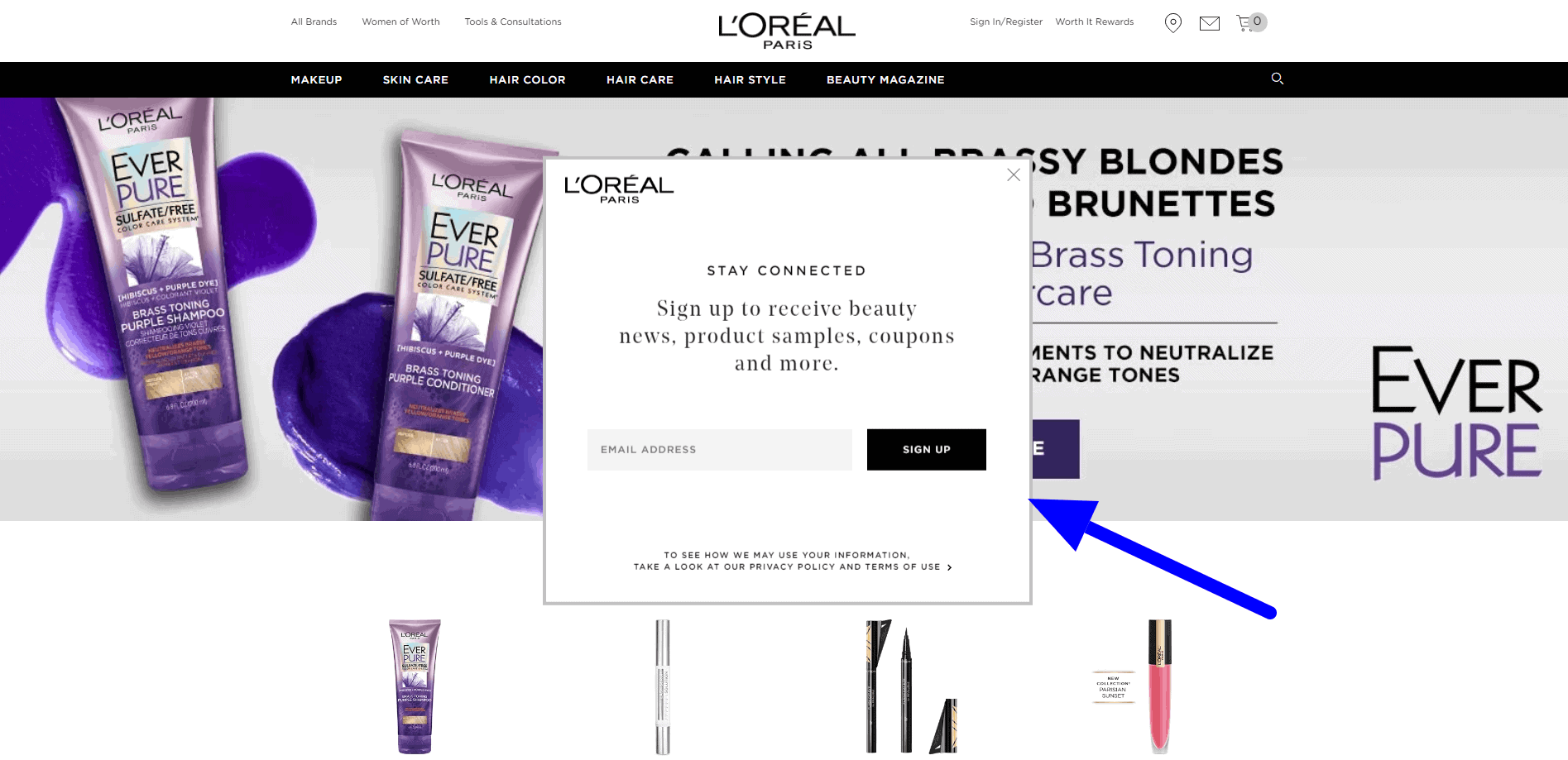 This world-famous French skincare & cosmetics brand is known as one of the bests in the sphere. L'oreal has proven its quality for many years and is known as famous all over the world.
Most professional models, highly qualified marketers and the best crew is in the Team of this powerful cosmetics brand.
Yet, it also uses popups on the official website, asking visitors to sign up and become a member of the L'oreal newsletter to always be up to date. They also offer coupons beauty tips, etc. to get more subscribers. Yes, they do these tricks as well. 🙂
Ikea

IKEA is a Swedish multinational group that designs and sells ready-to-assemble furniture, kitchen appliances, and home accessories, among other useful goods and occasionally home services. 
In fact, this is the world's greatest furniture retailer since 2008. It has 276 stores in 25 countries. This is a really impressive number, isn't it?!
Cookie usage is now to be informed all over the net. This is a general rule for all websites to inform their website visitors that they somehow use cookies on the site.
So Ikea has solved this issue via a popup notification informing the site visitors about cookie usage and providing with options "Allow" and "Get more info".
H & M

H & M (Hennes & Mauritz) is a famous Swedish multinational clothes brand, known for its fast-fashion clothing for men, women, teenagers, and children. It has about 4,500 stores in 62 countries in the world. 
This company is known for its affordable prices for fashionable clothes. Almost anyone can afford to have clothes from H & M. You can spend less money but still look high-fashion.
So, what popup does H & M use on their official website? It's a membership "sign-in" popup offering -10% discount for the membership. Tricky but pleasant, right? 🙂
Sony

This is an electronics giant, founded in 1946. Can you imagine how old it is, in a good way?
There's hardly anyone who hasn't heard about Sony electronics, or Sony Pictures today. The best electronics are made by Sony, the best movies are produced by Sony Pictures. This is truly a giant in the field that is worth regard and respect.
I mean, what other company could go for so long and stay that successful?
Maybe the secret is that Sony is always up to date on all the innovations, be that in their sphere or in the marketing. Of course, Sony would use pop-up marketing on the official website. 
There's a popup window, asking for feedback, which is really important for any company and any website. You can give your feedback, or escape, by choosing the opposite button in the popup. All fair – no pressure!
Adidas
All of us are in love with Adidas clothes, and footwear, even if we are not sporty people at all. Adidas is something that everyone loves. It's just classics in sportswear.
It has a really long history and has remained powerful since 1949. In fact, it has around 800 independent factories from around the world that manufacture our products in more than 55 countries. Huge isn't it?!
Adidas always has the spirit of the youth, this is why it has one of the best marketing in the world. And of course, it uses popup campaigns as well. 
If you visit the official website, you will see an accurate popup asking for sign-up, offering 15% off. It also asks you to confirm that you're over 13 years old and select the gender for future recommendations.
Pampers
Pampers – all the parents in the world, and not only, very well know about these super inventions that have made parents' lives so much easier. 
According to the history of the creation of Pampers, in 1956, P&G researcher Victor Mills disliked changing the cloth diapers of his newborn grandchild. So he assigned fellow researchers in P&G's Exploratory Division in Miami Valley, Ohio to look into making a better disposable diaper. Pampers were introduced in 1961. Truly a great invention! 🙂
We all have seen those funny cute advertisements for Pampers. So the popup that they use on the official website is also cute and attractive.
It offers some prizes if the users download the App. All through a popup. 
Victoria's Secret
All the women and men all over the world are in love with this brand, founded in 1977 by Roy and Gaye Raymond.
In fact, Victoria's Secret is an American designer, manufacturer, and marketer of women's lingerie, womenswear, and beauty products. The company was started as a response to packaged underwear, which Roy Raymond considered to be "ugly, floral-print nylon nightgowns".
Today, Victoria's Secret is the largest lingerie retailer in the US and is known and loved all over the world. All the top models just dream about being a part of this company. Especially the VS fashion shows that are turned into a real carnival, fairy-tale, and a holiday.
Victoria's Secret, as a fashionable and modern company, couldn't escape from pop-up marketing as well. On their official website, they offer you to "Stay in touch & In style" by subscribing to their newsletter. Who can resist?! 🙂
Lego
Lego is one of the most brilliant toys ever invented for children. These are interlocking plastic bricks that allow kids to construct some buildings, machines, etc. 
It was founded in 1932 by Ole Kirk Christiansen – wow, this was a very long time ago. 🙂
The word "lego" is derived from the Danish word "leg godt", meaning "play well". 
In the early 20th century, Lego was making small wooden playthings, this was before the original plastics came out.
On their official website, Lego uses a popup with a survey to improve the quality of the products and get more customers. It has 2 button choices, if you want to do the survey, you hit the green button, if you don't want to d it, you hit the red button. Easy-breezy! 
Conclusion
We have shared so many articles about the usage of the popups, their advantages, and interesting tips. But we never have thought about their real popularity. 
Popups are really used all over the net, but super famous and successful companies. And you know what, their success partly depends on the pop-up solutions they implement on their sites.
So, just don't waste your time and start your perfect pop-up marketing today. 😉