UTM source tracking is a perfect way for improving marketing schemes on any website, any type.
As a prosperous digital marketer, you must acknowledge that your marketing has an influx to your customers' websites. The inquiry is if you have any data to justify that. Is there any data you can present showing which certain tweets or shares have provoked those leads? You can track all of this via UTM data.
But first, let's see what UTM is, for those who haven't heard about this magic capturing. 🙂
What is a UTM
UTM opens as "Urchin Tracking Module" parameters. These are five variants of URL parameters that one can effectively use, as a marketer, in order to track the potency of digital commerce campaigns. This process is tracked over traffic sources and publishing media. The UTM parameters in a URL spot the operation that shows influx to a distinct website and then assign it to the browser's website session and those sessions after that till the campaign attribution window expires. The parameters may be defined by analytics tools and can be used to get reports.
Here's a great instance of a URL with a UTM source (highlighted in red): https://popupmaker.com/blog/?utm_source=wordpress&utm_medium=website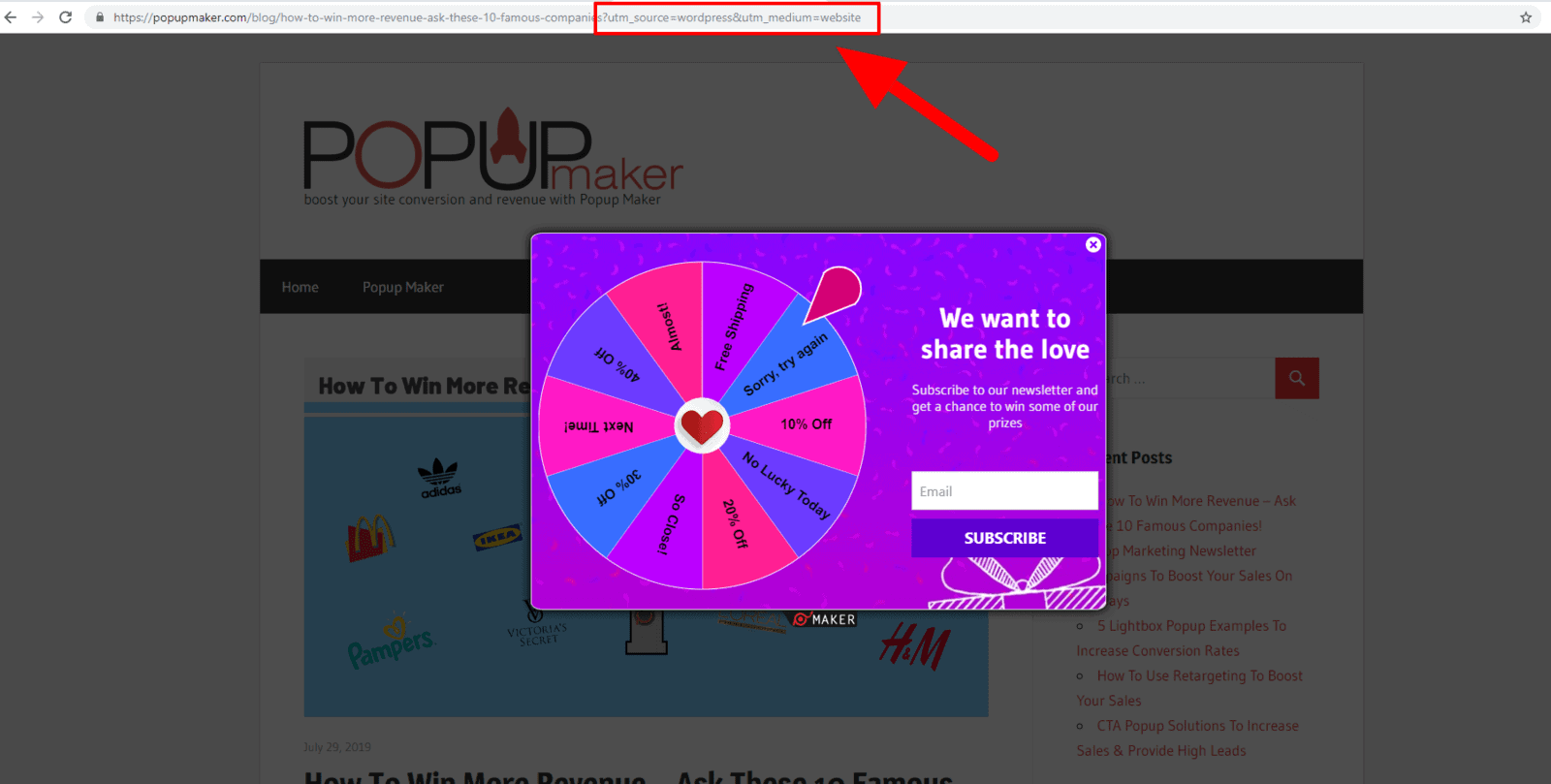 What does UTM detect?
UTM parameters in a URL spot the commerce campaign that assigns traffic to an explicit website. And, as the saying states, "what gets measured gets managed". This is super true about UTM data detection.
In order to spot and join the significant UTM parameters to the suitable URLs, digital marketers habitually use plain, spreadsheet-based, or automatic UTM producer tools, including Google Analytics for websites, and other analytics means. When a URL involves UTM parameters, the web analytics software of the harbor website depicts the parameter info. Then it credits it to the browser's website session and those sessions after that until the campaign attribution window has expired.
In other words, the UTM parameters show the source of the URL the shoppers have referred to your website. It might be an ad from FB, a link from other sites, or any referral.
Popup Maker UTM Code Detection
Having the UTM tracking code of your subscribed buyers, you will be capable of successfully handling more satisfactory digital commerce strategies for your site. Just imagine, you can see the most sufficient sources of your subscriptions and spot them for more superb converting results.
In Popup Maker, if the user has come to your site from some UTM source link and subscribed to your e-mail marketing list, this data will be collected and exposed in the Subscribers section of your Popup Maker account. This is just a unique option allowing you to know exactly the most prosperous sources of your subscriptions and point them for 100% results.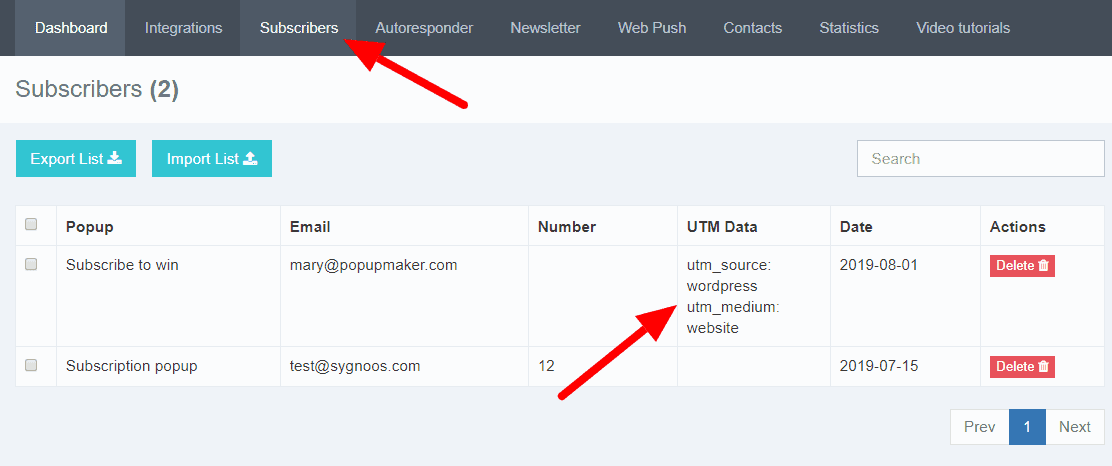 You may spot your subscribers having the UTM data via Autoresponder and Newsletter e-mails. Having the UTM data next to your stats you can send targeted emails to increase your conversion.
Easily improve your conversion rates, sending extra-targeted newsletter emails as well as web push notifications. You have all the necessary data for pointing to the right audience with specific offers.
UTM-targeted Newsletter and Autoresponder campaigns
Suppose, you have a "Subscribe Get a Coupon" offer on your FB page. You want to show the Subscription Coupon popup to the users who come from this FB source.
So, the users click on your FB ad, they come to your site and the popup opens for them. They subscribe, then you send the coupon via Autoresponder or Newsletter e-mail.
The point is to have an autoresponder e-mail created beforehand and send it to the subscribed customers who have the FB UTM source, in this case.
Similarly, you might implement another ad on Twitter, for instance. And for the subscribers referring to Twitter, you offer a free eBook. Various approaches to each source are the point of ideal marketing.
Having different offers for each audience group, from FB and Twitter (in this case) is the ideal technique for engaging with the customers in distant ways. As a result, you will find the most engaging and efficient variant and will enhance your conversion.
Generally, the UTM data will be saved near the subscriber's email on your Popup Maker CRM. You will see the exact sources that the users convert the most and will easily target the most effective sources.
UTM targeting for Web Push Notification Campaigns
Web Push Notifications are for certain one of the most compelling and the best converting online marketing means for any website, be that a blog or an eCommerce.
They can give you so much more conversion than any other tool. They are super easy to set up They don't store personal data They are easy to subscribe to, with one click only They are reaching out to the customers even if they are out of your website
If this was not enough to prove that they really work, we have implemented the UTM source detection to this highly converting tool.
So now, you can view the source of the users that have engaged through the web push notification and target the sources even better for more income.
Just like the Subscription popup's Subscribers data, you can spot the UTM data in the Subscribers section of your Web Push campaigns.
You will see the UTM sources near the other data of the Web Push subscribers, like Browser, OS, Region, and the Subscription Date.
Just imagine, you will be able to offer specific offers with your sales, or about new blog posts knowing exactly what to offer to a certain audience, having their UTM data. This is the ultimate way to grow the changeover on your site even faster and run more strategic marketing on your website.
Conclusion
Hope you are happy with our super-fresh option that will bring so much changeover to your web site. UTM data detection is truly a real compass for your ideal digital marketing. Easily detect the hottest referrals to your subscribers' list and focus your forces on the most productive results.
No long-term research and efforts are needed with this option. Just see the most effective sources and point them out for the highest conversion for your website. This is a truly intelligent and highly-effective online marketing technique that every business owner should implement.
Build more professional and targeted e-mail marketing for your website and get higher changeover rates in a really short time.
What can be easier than just tracking the sources and pointing the audience accordingly? Especially, when all of this can be automated via the Autoresponder tool.
Use the UTM data detection for your Web Push Notification campaigns and get more sales and more readers, if you are a blogger. You have the most significant source to know your customers' interests and desires. So you will clearly know what to offer them, specifically.
This ultimate option will save your time by 70%, check it out today, and improve your targeted online marketing.