Coupons and sales are the most powerful means that can move customers for more shopping. Coupon popups are the most common and most forceful way of promoting more sales on a site. Nothing more can encourage a shopper to get more items than a good discount coupon offered at the right moment.
We all know how effective popups are in general, for improving the website conversion as well as getting more leads. The main point is showing the offer in the most engaging way and of course, at the right moment. 
Thousands of variants of coupon popups are available for your choice, but we'll discuss the most effective ones. We'll put the accent not only on the content and the look of the popup but also the triggering means and timing. 
Things can go real easy with Popup Maker, as you'll have all the ready-made coupon popup templates for your choice. You can fully customize them per your preferences and get the maximal profit with them.
Let's just go on and check some very fruitful coupon popup examples with important nuances for the implementation. 😉
Exit Intent Coupon Popup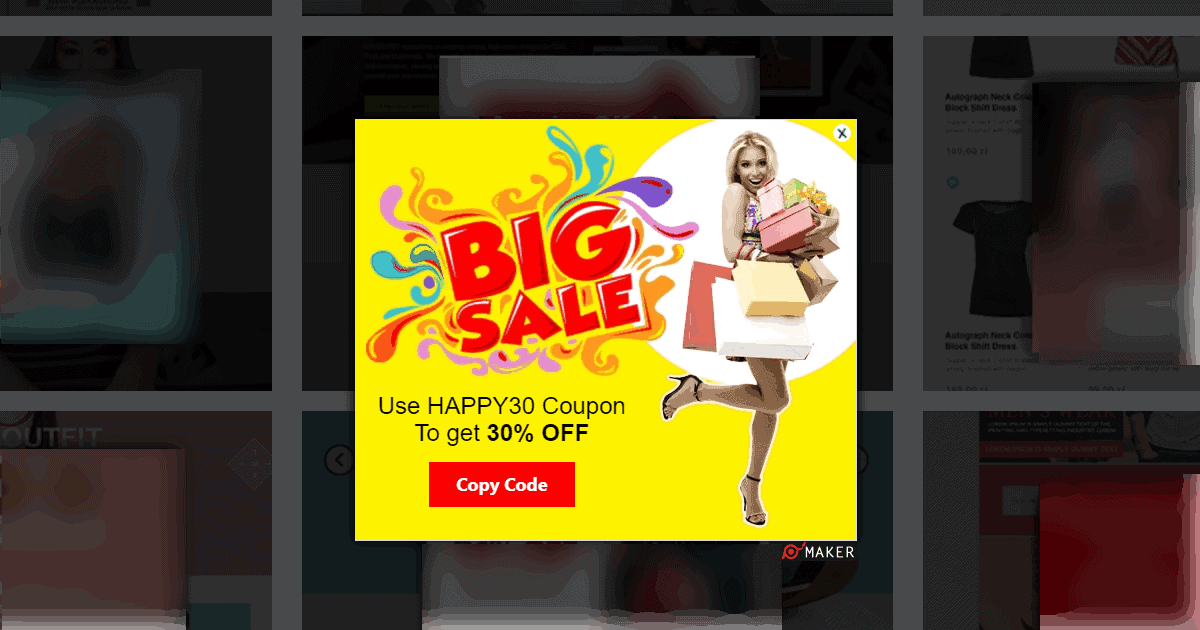 Exit-Intent popup triggering is known as one of the most robust means of a popup triggering today. It's simply catching the users on their way to quitting the website with an alluring offer that can make them hang longer. Really, what else can be more forceful?
A perfect reason for making a user stay in your shop will be offering a discount on exit intent. A  beautiful coupon popup triggered on exit intent will be just on point. Offer a special discount to the quitting customer and own his/her heart for good. 
According to statistics, more than 80% of the shoppers get back to the shop and make purchases when offered good sales on exit intent. So why not take advantage of this fact and use it to get more profit from your e-shop?
More Leads + More Sales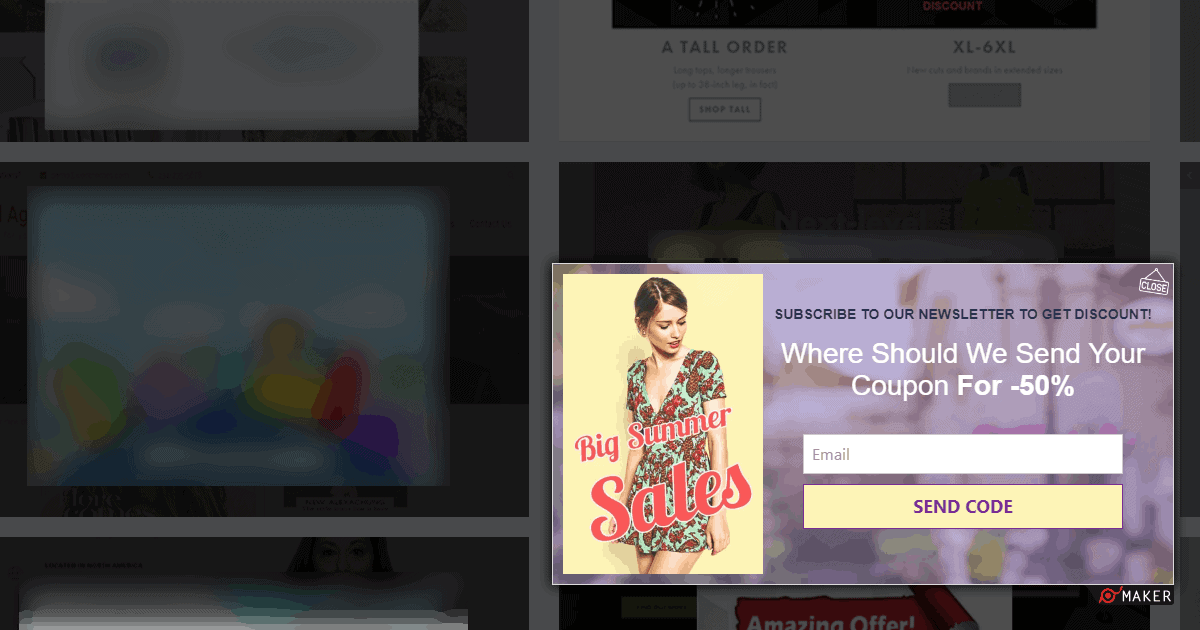 High leads are one of the ultimate indicators of success for any website owner. As for the eCommerce website owners, this means that you got a solid army of customers. The broader your e-mail list is, the more successful you are considered.
The practice has shown that the most fruitful way of collecting subscribers are subscription popups. A neat and tidy windows, with a simple form inside asking to subscribe. But this won't work if you don't have worthy stuff to offer to the subscribers-to-be. In the beginning, you should have interesting content on your site to engage with the users and convince them to subscribe.
But there's another, more powerful method of collecting e-mails to your list. A coupon popup + subscription will leave nobody uninterested in your offer. Just offer a coupon that will be sent via email as soon as the user subscribes, and you've got them! This way you'll hit 2 targets at a time. The offer will make the user subscribe and the coupon will direct the user to shop in your store!
Black Friday Sales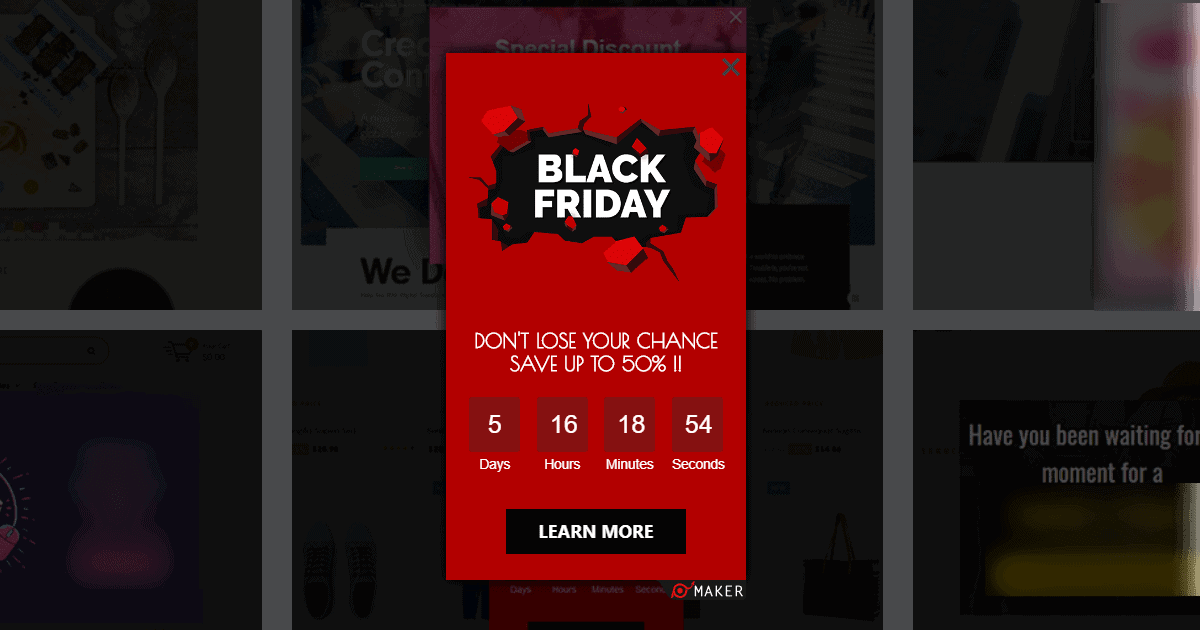 All the shoppers all over the world are impatiently waiting for that day to get the desired items at a lower price. It's the time of very big sales, it's Black Friday. 
So what a successful eCommerce owner should prepare on this special day? Sales, of course. But what can make those sales more effective is an attractive popup that will convert any visitor to your store. 
A perfect strategical step will be preparing the visitors for that special day, using a nice countdown popup. It will appear on your site counting down till the estimated day reminding visitors about the big sales. Besides, a countdown is an ideal way to create a feeling of rush among shoppers. We are all more likely to get the deal if we are running out of time and the offer is limited. 
So just take advantage of this fact and display the sales on this special day in an attractive and more forceful way to get even more sales.
Holiday Sales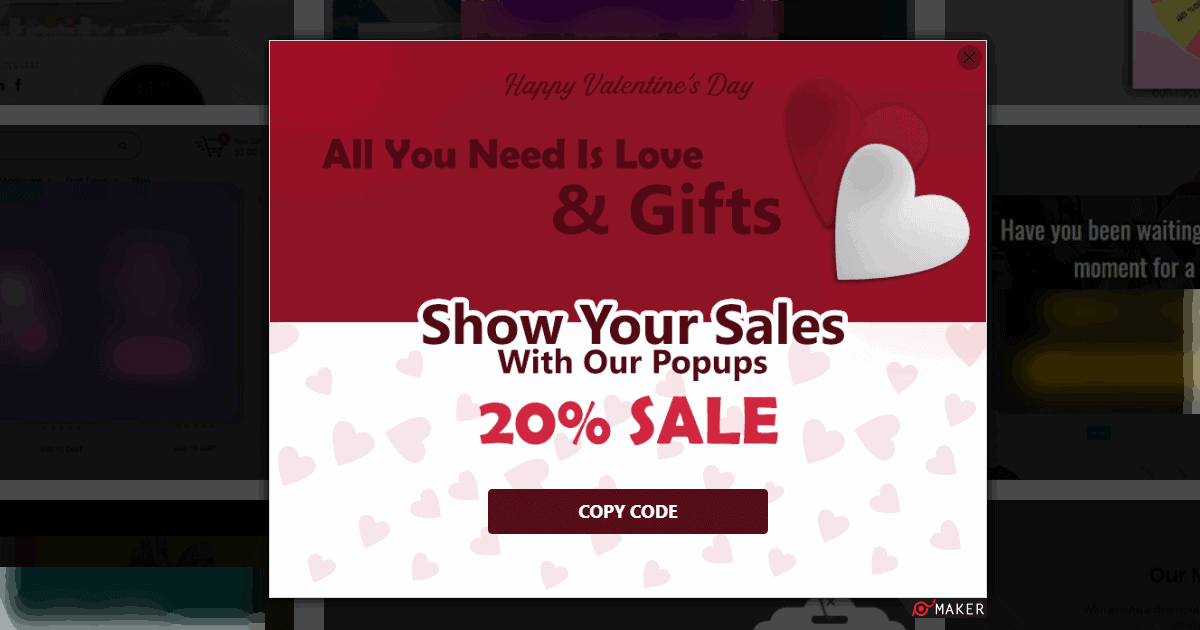 All you need for Valentine's day is love and gifts. 🙂
Keep this fact in your mind and surprise your customers with gifts on that special day. 
All the shoppers are expecting sales on any holiday existing. Don't break your shoppers' hearts and offer some nice deals with coupon popups on your site. Remember that sales are the powerful impulses that are able to push the shoppers to make more purchases than usual. 
A nicely packed coupon pop up with one click coupon code can make real magic for your sales. If you have the correct popup creator tool for your site, this will be a really easy task for you. You can create such coupon popups within counted seconds and start earning more cash online at a rapid speed.
Game-like Coupons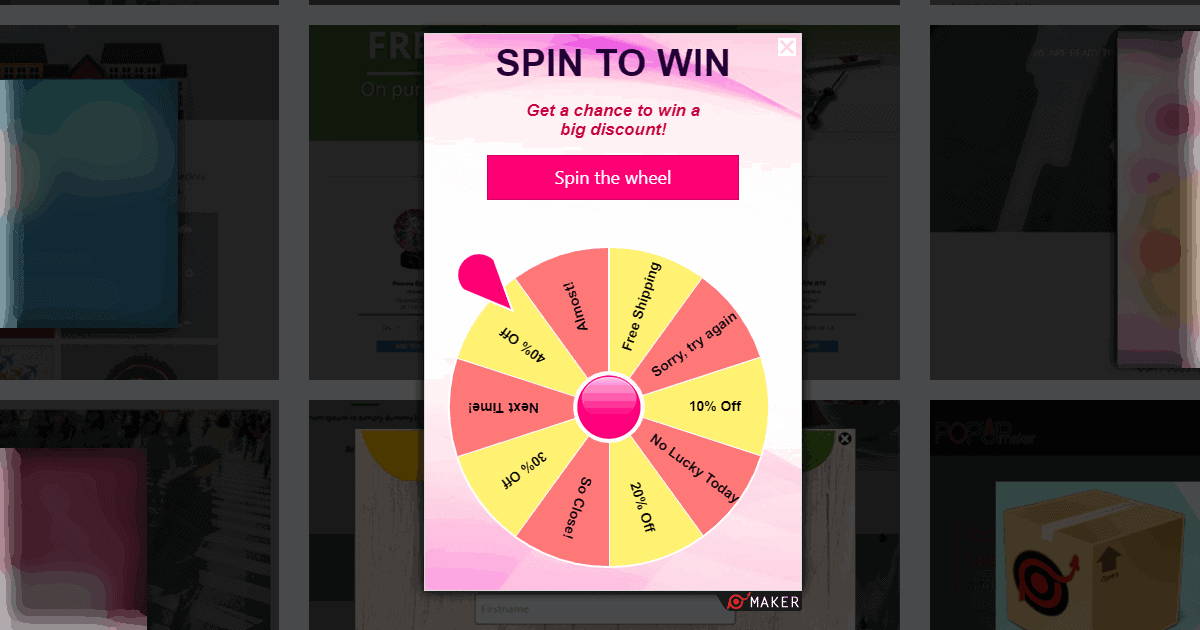 Games are something we all love, no matter what age. Spin-to-win, roulettes, and slots, are the main game types that are popular online. 
What if you can use these games, like spin-to-win, in a coupon popup? Ever heard about spinner popup elements? This is a great innovation that makes offers in popups more attractive and engaging. It's an alluring popup solution that can interest any customer with just its look.
Here's how it works. There's a wheel with slices in the popup. Each slice has its win, it can be a discount, free shipping, or something else. There's a button with the spinner wheel which the customer should click to spin the wheel. The wheel spins after the button click and the user see its win. 🙂
This is just a perfect way of offering coupons to users. What's more fascinating is that the users are likely to shop in your store even if they don't win anything with the spinner. The idea itself is engaging and motivating to do more shopping at your store. Creativity is always welcomed!
Conclusion
Summing up, we can surely state that any type of coupon popup is possible with Popup Maker. There is a great bunch of special coupon popup templates which can notably ease your task of displaying coupon popups on your website.
There are several nuances and important facts to consider when showing a coupon popup, including the display event, the content, and the time for showing the offer. 
Be creative, use popup element combinations, implement exit intent triggering, and see how your sales will grow in the fastest way!