The main aim of any eCommerce website owner is to run a clever and well-programmed campaign to improve the sales and conversion rates of the site. Many solutions are known for this purpose to organize an effective campaign for more profit. Popup campaigns are one of the most productive solutions for boosting sales and increasing conversion rates.
There's no more effective way of offering coupons to customers than a perfectly constructed coupon popup. If you have the proper tool for running a clever popup campaign, you can reach more success than ever, getting the best profit in a simple way. No need to put any effort if you know some tricks that can be implemented with a quality popup maker tool.
Let's check out some top 5 popup coupon solutions that will bring more sales to your eCommerce website! 😉
Spin-the-wheel Popup Coupon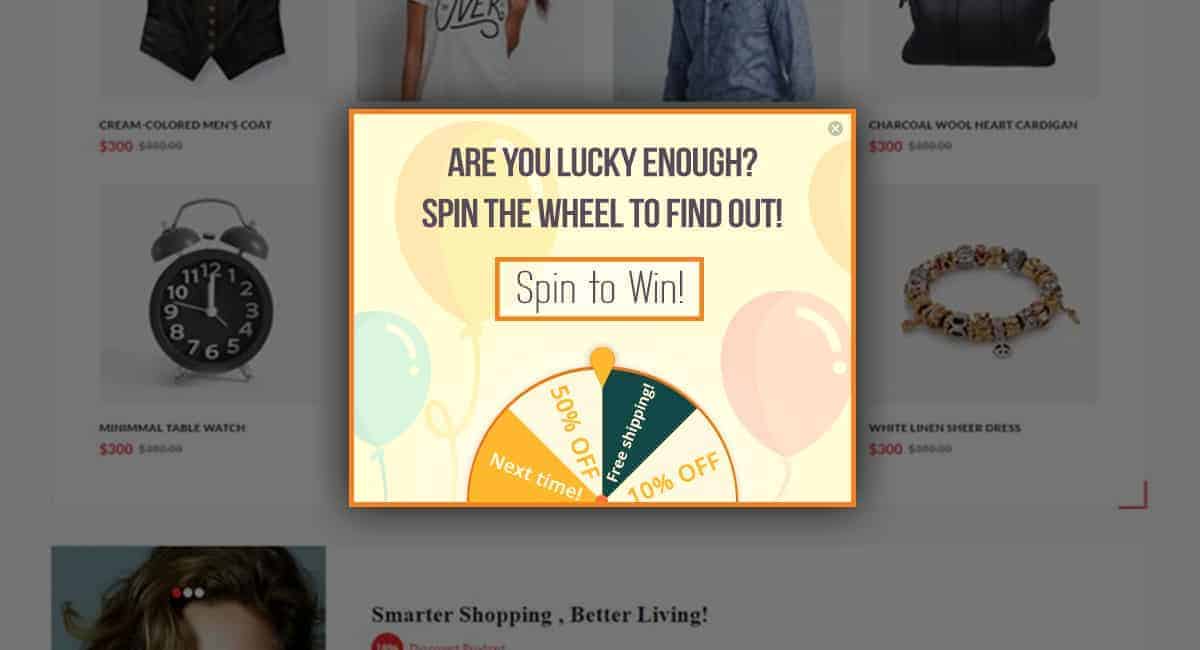 Spinner popups are one of the most effective coupon popup types as they work as a game. There's a colorful attractive wheel that has prizes in its slices. The user spins the wheel and gets one of the prizes you include in the wheel.
This is one of the most effective popup coupon types as this is more fun and attracts more customers with its overall look and functionality. Game-like offers are always more effective rather than usual ones. No efforts are needed to gain more customers if you have a beautiful spinner popup.
An important point in this all is having a handy and easy-to-use popup tool that will provide you with the ability to create such highly converting popups. With the right tool in your hands, you can have more sales with nicely displayed coupons inside a popup.
Just make sure the popup is attractive and beautifully constructed. Use motivating texts that will encourage the users, even more, to make more purchases on your store by getting the coupon via the spinner popup tool. It can be simple but motivating. Add the popup on your Checkout pages and set it to show on exit intent. Exit Intent popup is the best way not to lose in any case. The users will see the offer when they try to leave the Checkout page without finalizing the purchase. The coupon code will surely motivate them to make the purchase anyway.
Time-limited Subscription Popup Coupon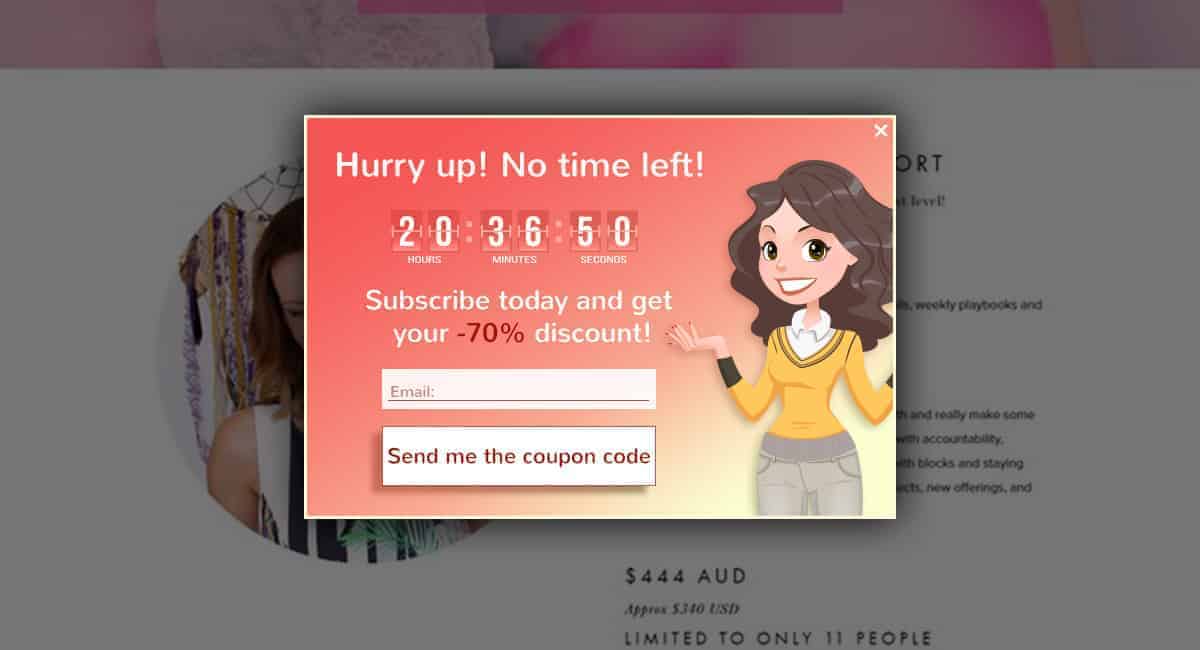 Time-limited offers are always a good idea. These types of offers are always way more productive and they bring more results than the ones without any timing. Generally, any limited offer has always more success than unlimited ones.
So, considering the fact of human psychological behavior that they are more motivated when there's a limitation on what they are interested in, we can implement it into popup campaigns. When creating a popup for offering coupons on your site/store, you should bring some time limitations to it.
Add a countdown popup element alongside your offer to make the process run more effectively and bring you more sales.
If you've got the perfect popup tool for your coupon offers, you can create the most effective popup for your sales boost. Include a subscription form, and an email field to collect emails for sending coupon codes to the users. The main motivator of the popup will be the counter above your offer. Set some timing during which your coupon offer will be available and get ready for more sales and subscribers!
This way you'll collect more subscribers to your list and will send coupon codes to the users that subscribe to your list. You'll kill two birds with one stone this way – collect more subscribers and have more sales at the same time.
Easy Button Popup Coupon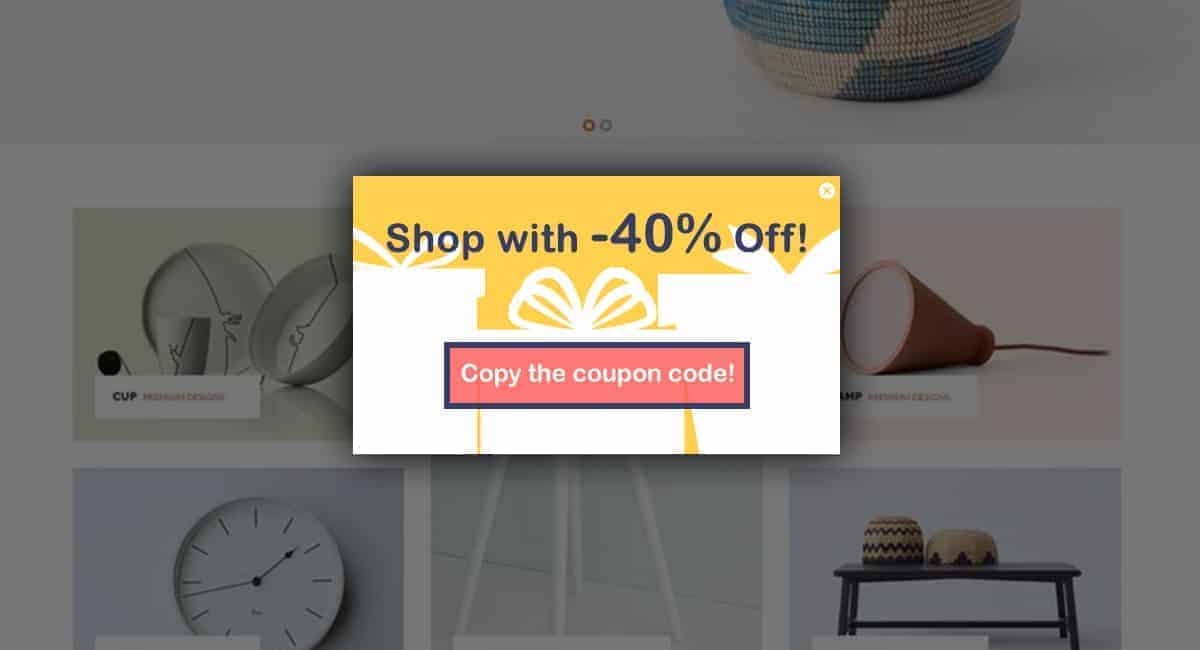 Sometimes it's better to show an offer that will take a second to proceed. A simple offer that will provide the user with the coupon code with just one button click.
Like, you can show a discount coupon code to your new customers, the ones who first visit your site. No need for much content in this case. This is kind of a welcoming prize to your customers to motivate them for shopping as soon as they land on your site.
Create a simple popup, with a clear text like "Shop with -40%" and the button that will provide the coupon when clicked. This is it! Just a background image to this whole picture and add it to your site to welcome your shoppers-to-be.
The visitors will surely like the idea of getting a discount as soon as they get to your store. What can be more enticing than being offered a discount just as you land on a shopping site?! This practice will for 100% motivate your visitors for shopping at your store.
Just make sure the popup is shown only once to each visitor, not to become a loser in this case. Gain profit and not lose! With the right popup tool, you'll easily have this functionality and will boost your sales in a counted timeline!
PayPal Button Popup Coupon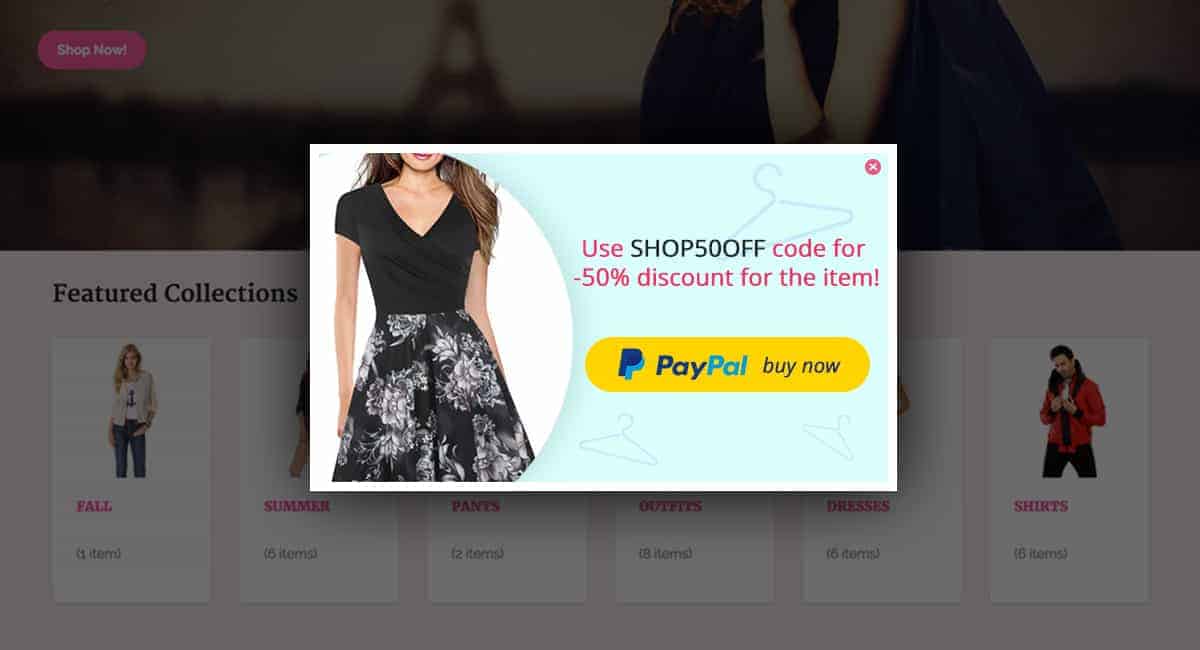 Ever thought about including a PayPal button inside a coupon popup to make the shopping more effective? Almost all the payment processes on online stores proceed via PayPal. So, why not make it easier and add a button inside a popup that will take the shopper straight to PayPal?
This way, you not only provide a discount for your customers but also offer an easy way of proceeding with the payment. This is a brilliant practice that will surely boost your sales.
The customers will like this handy solution and are more likely to make the purchase after they get the coupon. You are making the whole process much easier, with a simple button click.
Add the PayPal popup coupon on your product pages and when the customer tries to pick an item, the popup will be shown and push them to shop.
All of us like comfort and handy solutions, this is why this practice will succeed. The customers will get the coupon and be motivated to go to PayPal for the payment right away.
Minimalistic Subscription Popup Coupon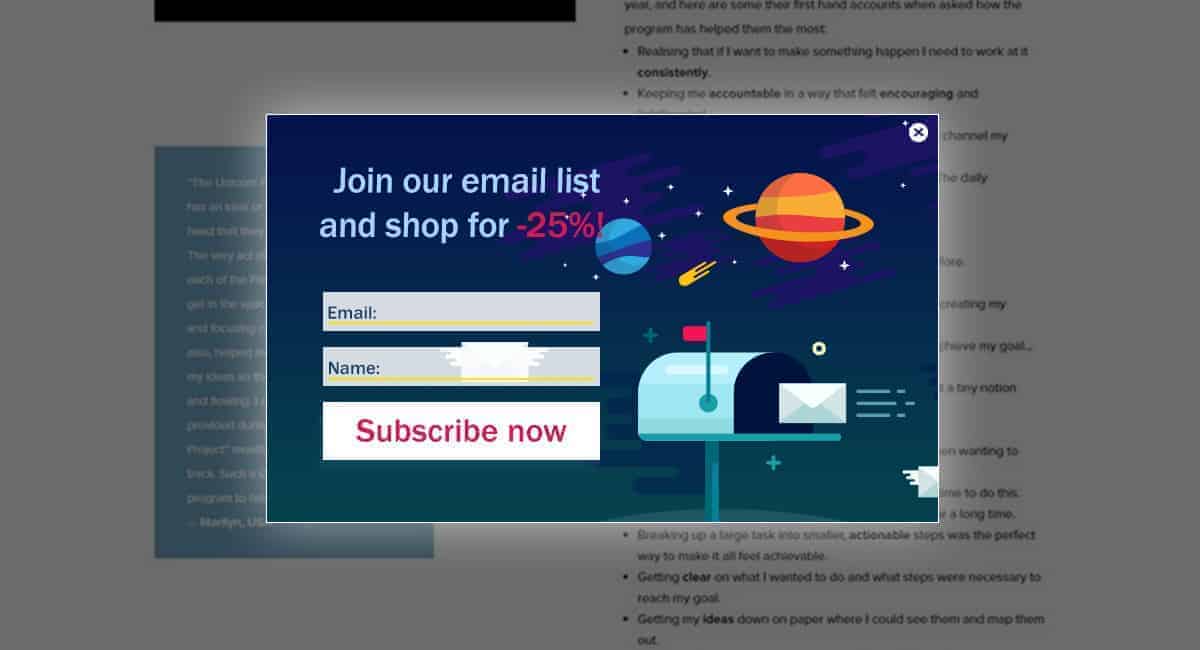 Minimalism is the key to success in most cases. The briefer the content is; the better chances are there to deliver the idea. This refers to all areas you may know.
Keep this idea when you decide on creating and displaying a popup coupon on your website.
Simply offer a discount to the visitors who subscribe to your mailing list. Display a clear subscription form popup with a brief text and a beautiful background image, and that's it.
The coupon codes will be sent to the subscribers as soon as they are added to your list.
A rich email list is one of the main grounds of having a successful online business, no matter if you're an eCommerce site owner or another type. The richer your list is; the more conversions you will have. In the case of an eCommerce website, the sales will noticeably get higher and the store will become more popular.
So, think deeper and consider this fact when offering coupons on your website. Ask the customers to join your mailing list, and only after this, you can send the coupon code to them. This is a kind of guarantee that the list will grow, as you have a motivation for them to subscribe.
Be a more successful online businessman with cleverly presented coupon codes for shopping. Consider some aspects and implement handy solutions for better results.
Conclusion
Popup coupons are well known as sales promoters. The customers make more shopping when they are offered a nice discount for your store.
Knowing some very handy tricks in coupon proposals, you can reach better results with higher conversion rates and more sales.
Consider some nuances in the usage of coupon popups and you will never use it in this game.
Implement various combinations in your popups to increase the productiveness of your offers. Be innovative and present your offers in the best attractive way.
Eventually, everything is possible if you have the perfect popup tool in your hands! 😉