Popup Maker keeps up with the innovations in the service, providing all the coolest features possible for the popup users to get more leads. This time, the freshly released option is for showing popups depending on other popups' behavior. You can perfectly target your offers depending on what the user has seen previously.
This is a perfect solution for showing special offers to a specific audience, certainly knowing what previous offers has the user seen. You can collect subscribers, offer coupons to the users, showing 2 popups depending on each other. Or you can have a detailed strategical popup chain, to achieve desired results, get more leads, and more sales at the same time.
There can be hundreds of use cases for this kind of dependency popup, the fact is – they make your targeting solutions easier and bring you better results.
Let's check a couple of solutions with the dependency popup option and see how it naturally works. 😉
How it works
To start with, let's see where this option is located.
You can find it in the Display Rules section of your popup options, the option is called "Show Popup Depending On Other Popups".
Check the option to set up the logic for showing the current popup depending on your other popups' behavior.
Click on the "Add New Dependency" blue button and a popup window will open with options to set up.
Everything's clear and easy here. You should simply choose the popup depending on which your current popup will be shown.
Then choose whether this popup will open if that popup opened or did not open.
You can have several dependency logics for the same popup. It can become a real chain. 🙂
Save the changes to apply to this dependency setting.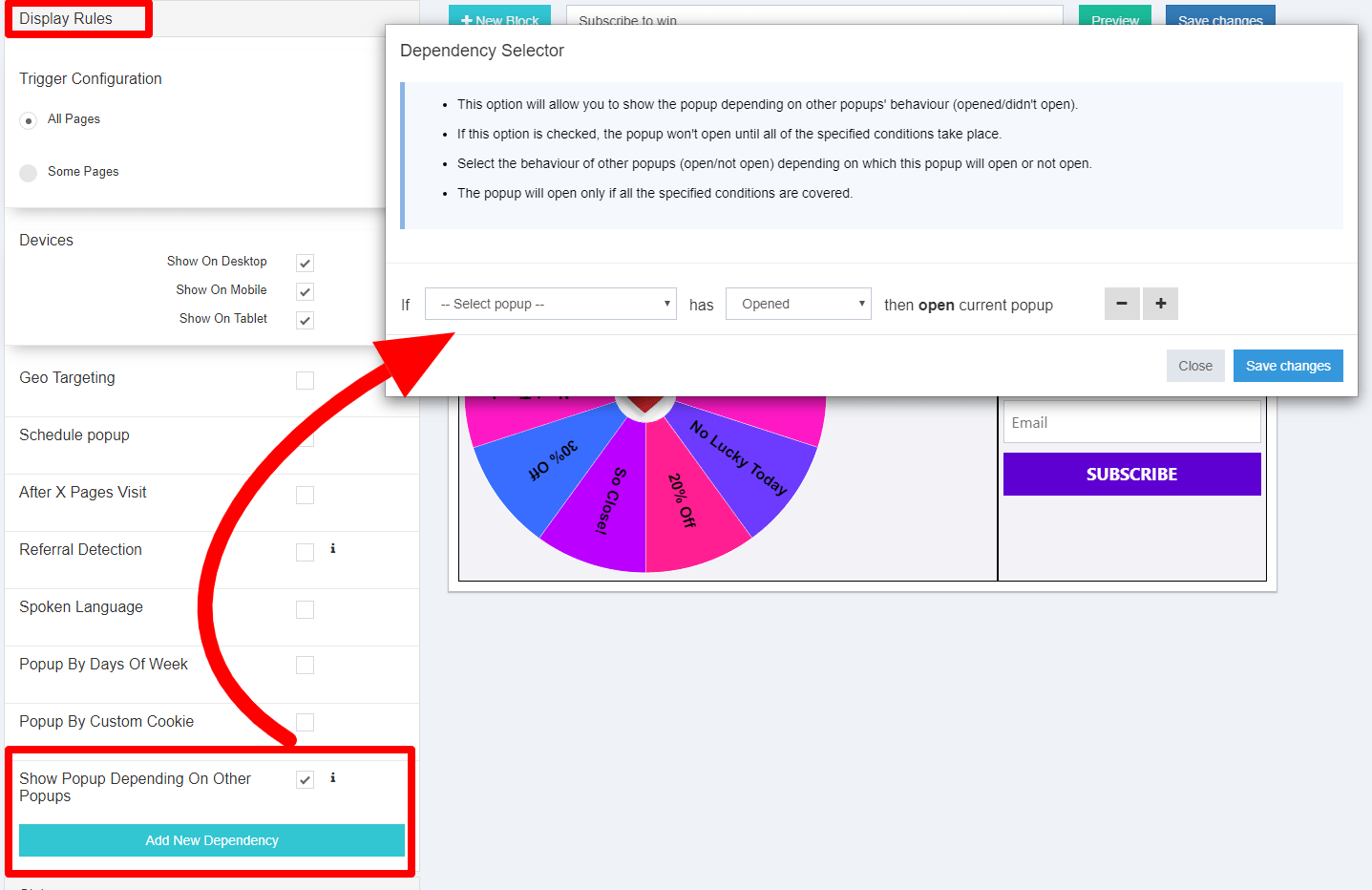 Effective use cases
Coupon -> Subscription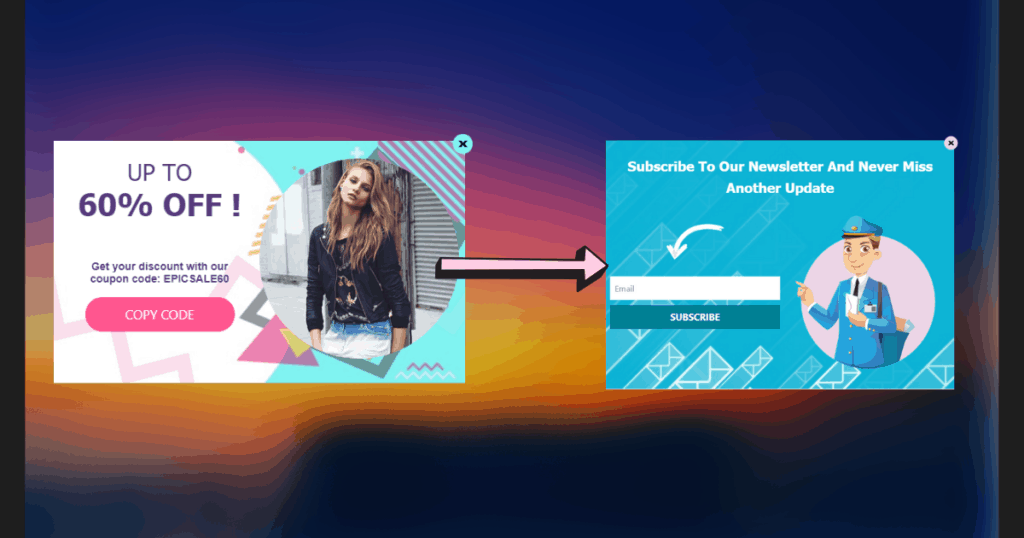 It's super easy to get more leads and sales if you have a perfect combination of 2 simple depending popups.
As a successful eCommerce (or other) website owner, you should always remember that ALL USERS LOVE TO BE BRIBED. 🙂
If you need something from the users, you should have something to offer in response.
For instance, if you want to collect more subscribers, you should offer them free prizes, discounts, eBooks, and other such kinds of stuff.
So, let's just implement this idea in a simple, 2-part dependency popup combination.
Create a simple coupon popup, offering the users a special discount for shopping on your site.
Then, create another popup, a subscription pop-up, and set it to show to the users if they have seen the 1st, coupon popup.
This is really increasing the chances for you to collect more subscribers as if the user has already received a "gift" from you, he/she is more likely to subscribe to your e-mail list.
Welcome -> Inform -> Coupon -> Review
Here is another way to get more leads to your website and lead you to success, step by step. This chain requires 4 popups from you to create.
First, you need to create a welcoming popup, introducing the new-comer the variety in your store.
Then comes the second popup, telling the shopper that the cool stuff you have shown them is almost sold out, so they should hurry. This popup is so on point, as it's a logical sequel of your first popup.
After this popup message, it's time to offer a discount to the user who's seen the cool stuff on your store and is aware that it's almost sold out.
This is the perfect moment to offer a discount to push them to shop.
And in the end, when everybody is happy, you have all the right to ask for positive feedback for your service, with the last popup in the chain. 🙂
We all know how important positive reviews (any reviews) are important for any service, in general. So this strategy will give you really deserved positive feedbacks and will boost your service really noticeably.
Conclusion
So, are you ready for a brand new way of lead capture popup campaigns to get more leads for your website? Dependency popup solutions are the new way of showing super targeted offers and collecting a true army of shoppers for your website.
Take your chance, consider these examples, and start your brilliant shopping strategy today and get more leads for your website with these tips.