Spin-to-Win + Exit Intent – the perfect combination for boosting your sales.
Games are something that almost everyone loves, no matter what age, there's always a game that anyone would like. Roulettes, Slots, or Spin to win. These are some of the best-known online games that are greatly implemented in website marketing.
The point of using game-like elements in popups is to make the offers more interactive. This is increasing your chances of engaging with them by more than 60%. Users are more likely to interact with a popup proposal that is presented as a game, rather than a more formal one. And what can triple the productivity of this kind of popup is the exit intent triggering. Show your enticing offer when the user tries to leave your site and you'll catch and convert them in real-time!
Let's check some very handy spin-to-win exit intent pop up solutions that will greatly pick your sales up. You'll be greatly surprised by how efficient and powerful this kind of popup can be. You can tremendously boom the conversion and deals on your site with simple pop-up solutions.
Pick the perfect tool for the Exit Intent + Spin-to-win pop up

There are hundreds of Popup maker solutions out there. You can get lost among that huge variety picking up the best suit for you. There are several things to take into count when choosing a popup tool for your website.
The price should be affordable.
The tool should be easy to use.
The tool should have all the necessary elements to make the creation easier.
Templates are a great plus, especially for non-techie.
Support should be responsive.
We'll ease your job in this task and will offer to use Popup Maker which covers all these requirements. It's affordable, it has all the necessary (and even more) tools for pop-up creation. It provides 70+ super responsive, fully handcrafted beautiful templates. Among them, there are 5 special templates for the Spin to win popup type. Isn't it cool? 🙂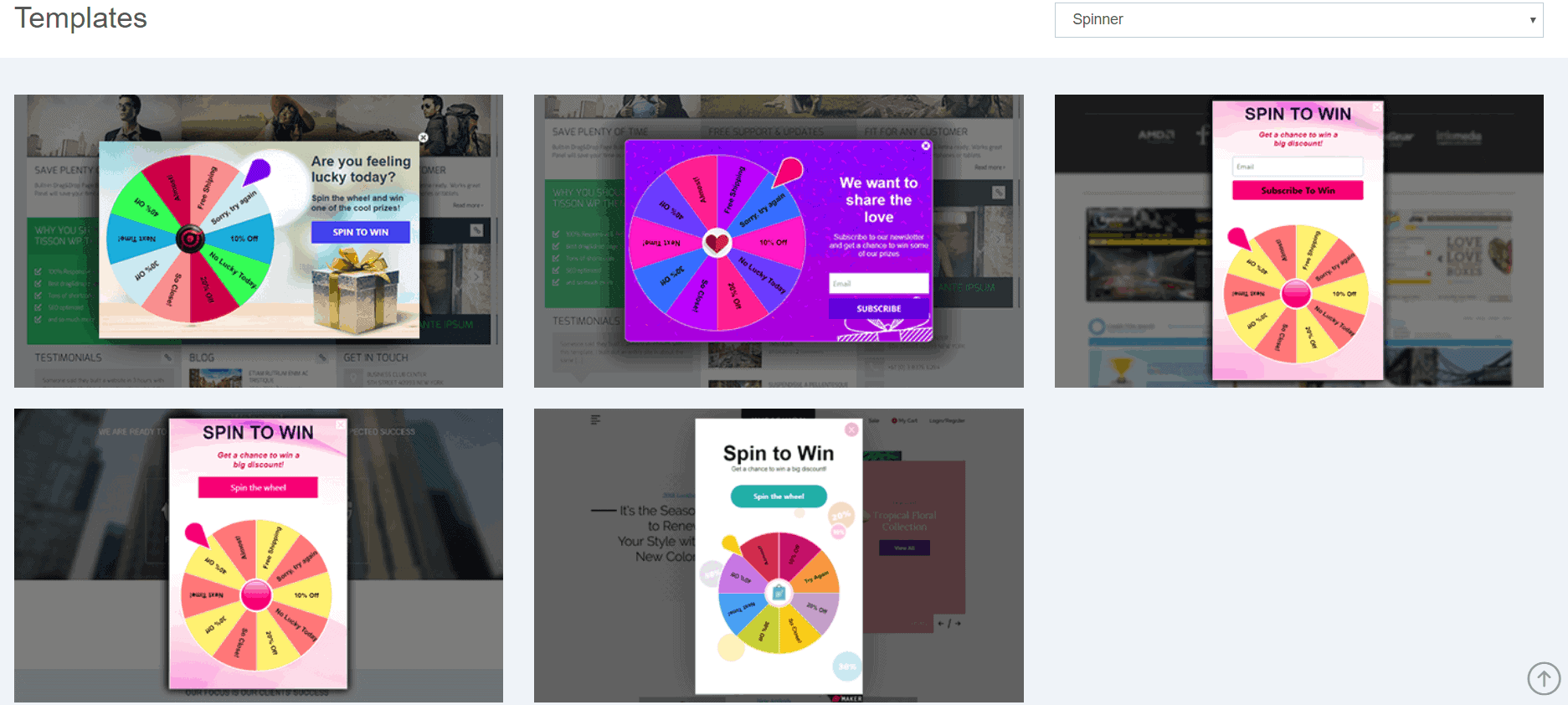 Add to this wonderful pack the unique Exit-Intent technology, and you're ready to go! This is a responsive Exit-Intent technology that works even on mobile devices. .
Coupon Spin-to-win Popups on Exit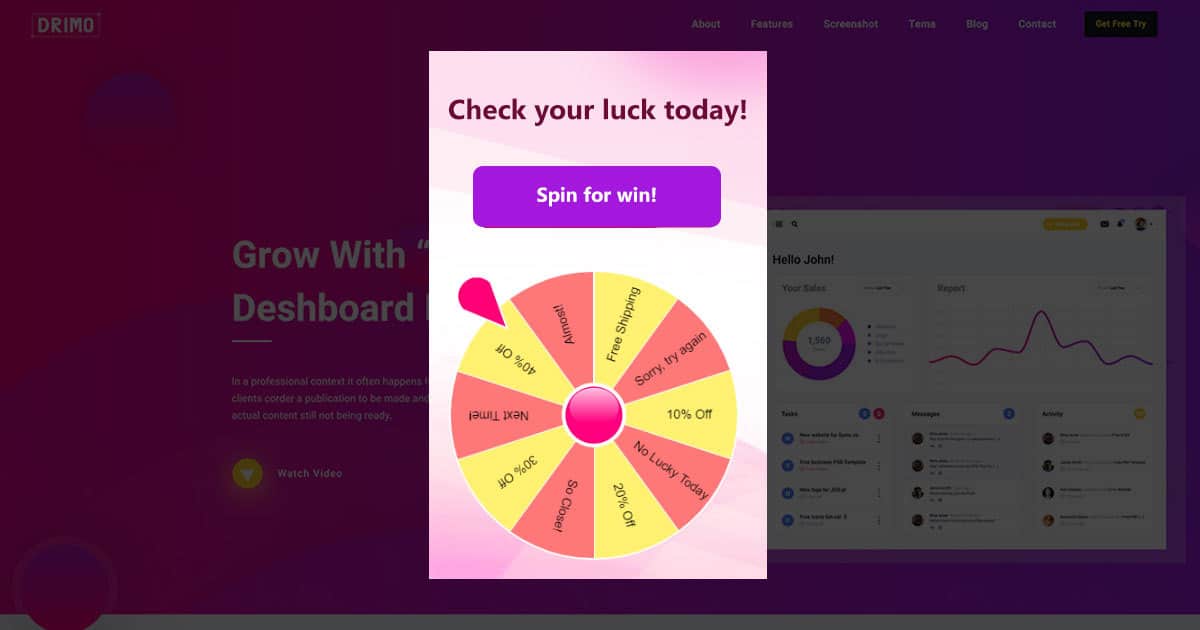 Cart abandonment is one of the greatest evils for any eCommerce website owner. The users add items on their cart and do not finalize their purchase, leaving the website.
Shop cart abandonment is a huge problem. The numbers are really immanence. Just imagine, the average eCommerce shop loses over 65% of sales because of this evil.
Considering that this is such a great problem, you should take all your efforts to stop this.
This is when you need to think about means of stopping this harm and increasing the conversion sales on your site. Think about bribing your users and pushing them for more shopping. Discounts and sales are the greatest promoters for shopping in any field. So take this into the count.
A perfect solution can be a spin-to-win pop-up triggered on exit intent. Create a beautiful pop-up containing a spinner and a button that will help users win a coupon. Play with the colors and make sure it's attractive enough.
The good thing is that you are to decide the probability of the win. You can select which of the slices in the spinner will win, and which will not. You are free to customize it all to your preferences and be a winner in any case.
Sometimes, the win can be unnoticeable but the fact of winning will surely encourage users for more shopping!
Show the pop-up on the shop page, when the user tries to leave it. That's it! You'll stop the user and maybe reclaim to shopping!
Collect Subscribers and Boom Sales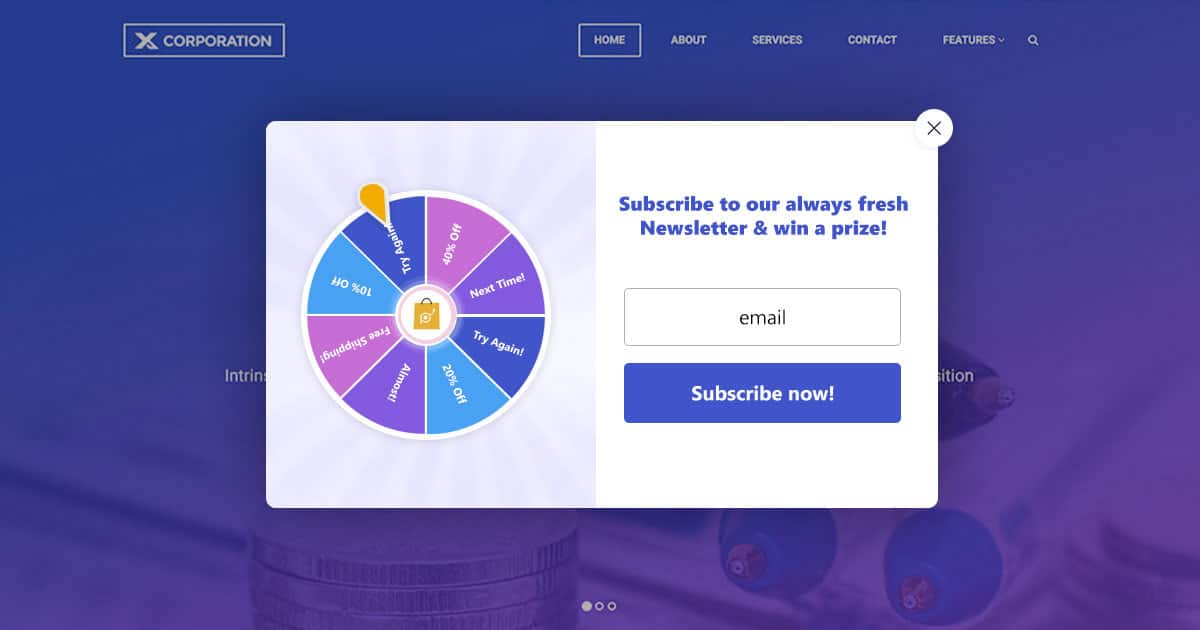 The richer your subscribers' list is the more prosperous your online business can be. There are many ways of collecting emails but the most powerful one is the subscription pop-up. It's easy to fetch subscribers showing a neat pop-up window that can easily be filled not taking much time.
But you can greatly increase the chances of making the users subscribe to your list if you make the popup more attractive. Include a pleasing spinner element inside the popup, along with the subscription form, and the chances will rise. This is a super-attractive way that will 100% engage your users and push them to subscribe.
Likewise, if they win a discount or some other prize via the spinner element, they will not only be your subscribers but also shop on your site.
Everyone likes shopping, and if there are sales, discounts, or free prizes, the intrigue rises and you can't resist the feeling to shop. 🙂
This type of popup can bring you much profit, including new subscribers and more sales if you show it at the right time. And which is the best time to show such an offer to the user? Of course, when they are about to leave your site.
Increase the conversion on your site, decrease the bounce rates, and get a lot more sales with these magical popups. It can be so easy!
Conclusion
Well, we can truly consider that Spinner+Exit intent is the best collaboration to bring more success to your site. Any user is convertible if you have a beautifully enticing spin-to-win pop-up triggered on exit intent.
The task becomes easier and more achievable when you get the perfect pop-up tool for creating such magic. A good popup creation tool can really ease your job and bring much profit to your online business.
Show the spin-to-win pop-up on exit intent, to raise the chance of getting more success. If you got the perfect tool, you can target your users even on mobile devices. We all know how mobilized our world is now. People spend more time on their mobile gadgets rather than on computers. So just consider this fact when starting your spin-to-win exit intent pop-up campaign.
Considering the wonderful use cases shown and discussed in this post, you can uplift the sales on your site in the shortest period!