Are popups an intrusion or a powerful marketing tool?
It has now been reported that exit popups increase conversion rates by up to 1200%! That is way huge!
Do you want to know how to increase customer retention and sales through exit popups?
OR
You have already used exit popups but find it harder to do it like everyone else?
If you are in the latter question, chances are that you might be doing something wrong.
Today, we will break down to you the most amazing marketing of the internet. The Exit Popups
 But before you implement exit popups in your website, you should know some of the negative aspects. These include:
But the fruits of using these outrun the harm done by these.
This article will include the following things:
(Note:- The links above can be considered as a table of contents so that it can be easier for you to navigate)
But first, we will quickly go through the meaning and use of exit popups.
What is an Exit Popup?
An exit popup is basically a tool or a strategy in the marketing aspect of a business.
You might have seen these on many websites.
The intention of these popups is to give your viewer a second chance when they are thinking of leaving your website.
More often than not, these are used in eCommerce sites.
These generally persuade the viewer by giving them offers, discounts, special benefits, and bonuses when they do what the popup says.
Advantages of using Exit Popups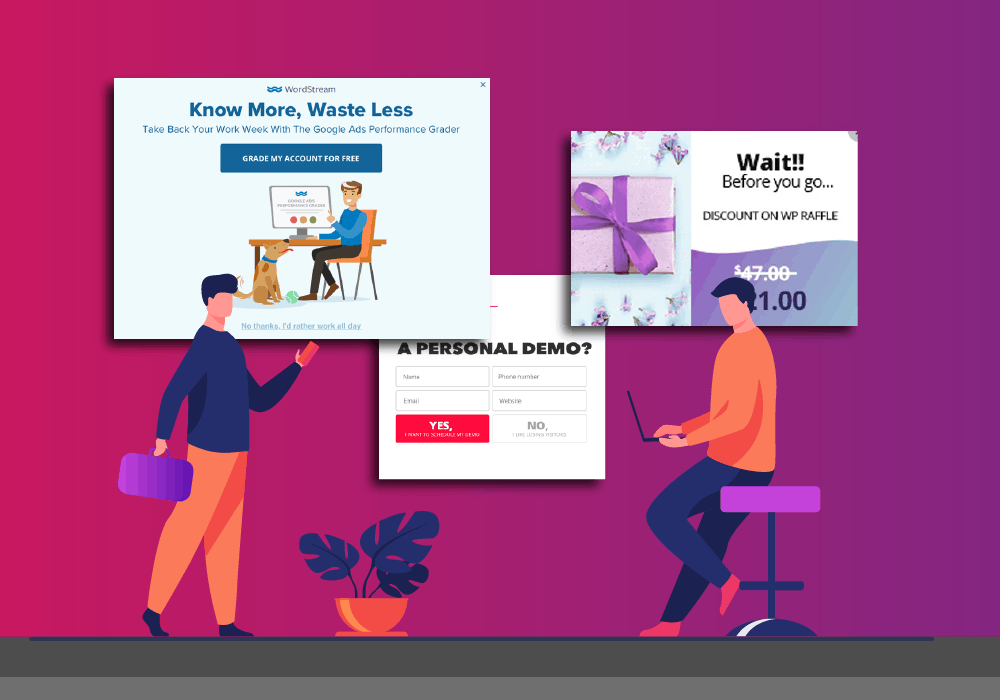 Exit-intent technology is indeed a powerful marketing tool and strategy.
The sole purpose of using an exit-intent popup is to generate sales and to promote your product or service.
There are indeed numerous advantages of these popups.
Here is a list of all the advantages of exit popups that will boost your business.
Exit-intent popups increase conversion rates
Decrease bounce rates
Increase in social networks and brand value
Let's dive into them one by one!
1.   Increase in conversion rates
This is by far the best thing about exit intent technologies.
As it was stated in the beginning, these popups can get as much as a 1200% boost in sales and conversion rates.
In order to do the same as the above, you have to know your target audience.
For example,
Consider yourself a digital marketing enthusiast. But you don't know the advanced skills of digital marketing and would like to learn. So, you try to find the best way to learn digital marketing through the internet.
Once you click on the website, you might not notice anything.
But when you are about to leave, there are high chances that you might get an offer saying "Subscribe now to get 15% off on a professional digital marketing course".
If you have the money, there are chances that you might subscribe to it or buy the course.
This was an example of targeted marketing through exit popups.
2.   Decrease in bounce rates
On introducing these popups, there have been reports of a decrease in bounce rates by up to 30%!
This is also huge!
What are bounce rates?
Bounce rates are specifically the percentage of people who left your website, for whatever reason, it may be, like slow page loading speeds, too many ads and so on.
Bounce rates can be significantly lowered by the use of exit popups.
3.   Increase in social networks and brand value
Even if the people do not do the thing that you mentioned in the popup, there are chances that people might follow your social media pages if they found them highly useful.
Or you can directly link them to the popups.
This creates a presence of yourself on the social media for the products or services you represent.
People will start to know you for your products and services.
This increases the brand value of your business and ensures targeted traffic.
How to Create Exit Popups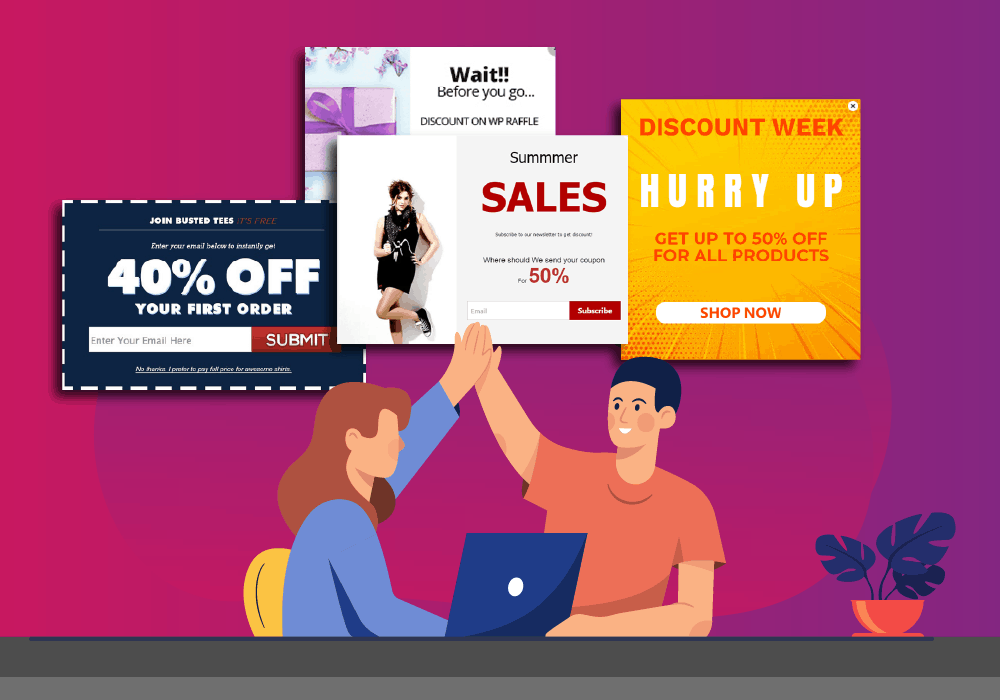 This is the place where your business marketing journey could be made or broken.
If you asked for the same question about 10 or even 5 years ago, the answer would have been complicated.
But with the ever-growing era of the internet, making exit popups have become relatively easier.
The best and easiest way to utilize and use exit popups is through Popupmaker.
The best thing about us is that we are already intriguing templates that are tested and proven to be effective.
These increased sales of many people who made popups through these websites.
We provide plugins and extensions for major platforms like Shopify, WordPress and many more.
More information is provided on this website.
Conclusion
Exit popups are a great way to generate sales and increase conversion rates and they can be considered a powerful marketing tool.
The suggestion is that try to experiment with these kinds of popups because you cannot know which popup will work if you are a beginner.
Try to understand the consumer mindset. The one who understands the consumer wins the market.
If you are a beginner, would you start building a popup today?
Check out our Exit-Intent Popup tool which will help you keep your customers on your website and massively increase your sales: https://popupmaker.com/exit-intent-popup/
Or if you have experience in this field, do tell us what you love about exit intent technology.