In recent years, online marketing has created such a wide range of opportunities that allow anyone to develop their own online business. Today, the vast majority of customers prefer to shop online more than in-store. During this long-running pandemic that is still not in retreat, people started to shop mostly online. This, in turn, contributed to the development of a great social media strategy, which many eCommerce business owners undertook to implement.
To understand how to succeed in the business you are running, we have highlighted for you 6 key points to help you develop a good social media strategy.
1. Setting Goals


Obviously, you will not get anywhere without setting the initial goals for your social media strategy. They not only give you purpose and direction but also create a path to step forward. Building a social media strategy and aligning it with the goals of the company should be your priority. You need to establish criteria for what success will look like before you implement anything else.
First of all, figure out what you want from social media in general. Whether it's a financial growth plan or expanding your reach with new subscribers depends on you. The more realistic your social media goals are the more success you will gain. When setting goals take into account such measurable steps as:
Increasing brand awareness

Growing your product's audience

Increasing customers' engagement

Increasing web traffic through promotional posts and ads
By setting the right goals, you will increase your brand awareness, increase conversions, and ultimately win your customers' loyalty.
2. Choosing Social Media Channels
Social media plays a significant role in digital marketing as it helps to establish a strong web presence and increase brand awareness worldwide. It is true that the right social media platforms will help your business grow exponentially. It is an indispensable eCommerce strategy that has always had a positive impact. Using platforms like Facebook or Instagram can guide customers to make the right choice when shopping online and later make them loyal fan of your brand. Using the main social platforms you will promote your business as well as generate leads and increase traffic. There are some cracking tools that will help you get a lot of free Instagram followers to promote your business on the Instagram platform.
Do not hesitate to invest your time in promoting your product on social media channels, as it has been proved that 80% of customers visit social media channels (Facebook, Instagram, Twitter) to get information on a company or a brand. And half of these customers made purchases based on the information they gathered from social networks. 
3. Carrying Out Competitor Analysis
In the eCommerce business, competitors are always in a constant struggle to be one step ahead. That is why carrying out a competitor analysis is another essential and inevitable step that you should include in your social media strategy. 
If you want to be at the top of this business, analyze your competition and explore them periodically. This will help you to uncover your competitors' behavior and anticipate their actions, which in turn will push you to stay one step ahead.
By carrying out competitor analysis you will comprehend why customers choose to buy from you or your other competitors; and how your competitors are promoting their brands. By doing good competitive quantitative vs qualitative research you put your business in an unsurpassed position and reach customers who are being unachievable.
4. Content Planning
Content marketing strategy is an excellent way to promote your business and build awareness. If you're starting a new business blog, the best way to make sure your efforts are not in vain is to develop a properly accomplished plan, that is:
Know your audience

Establish your key performance indicators

Do keyword research

Experiment with different types of content( blog posts and articles, videos, social media posts, email newsletters and etc. )

Update your old content
When creating content to boost your eCommerce business do not forget that the success of your efforts will depend only on the quality and uniqueness of the content you make.
5. Automation of Processes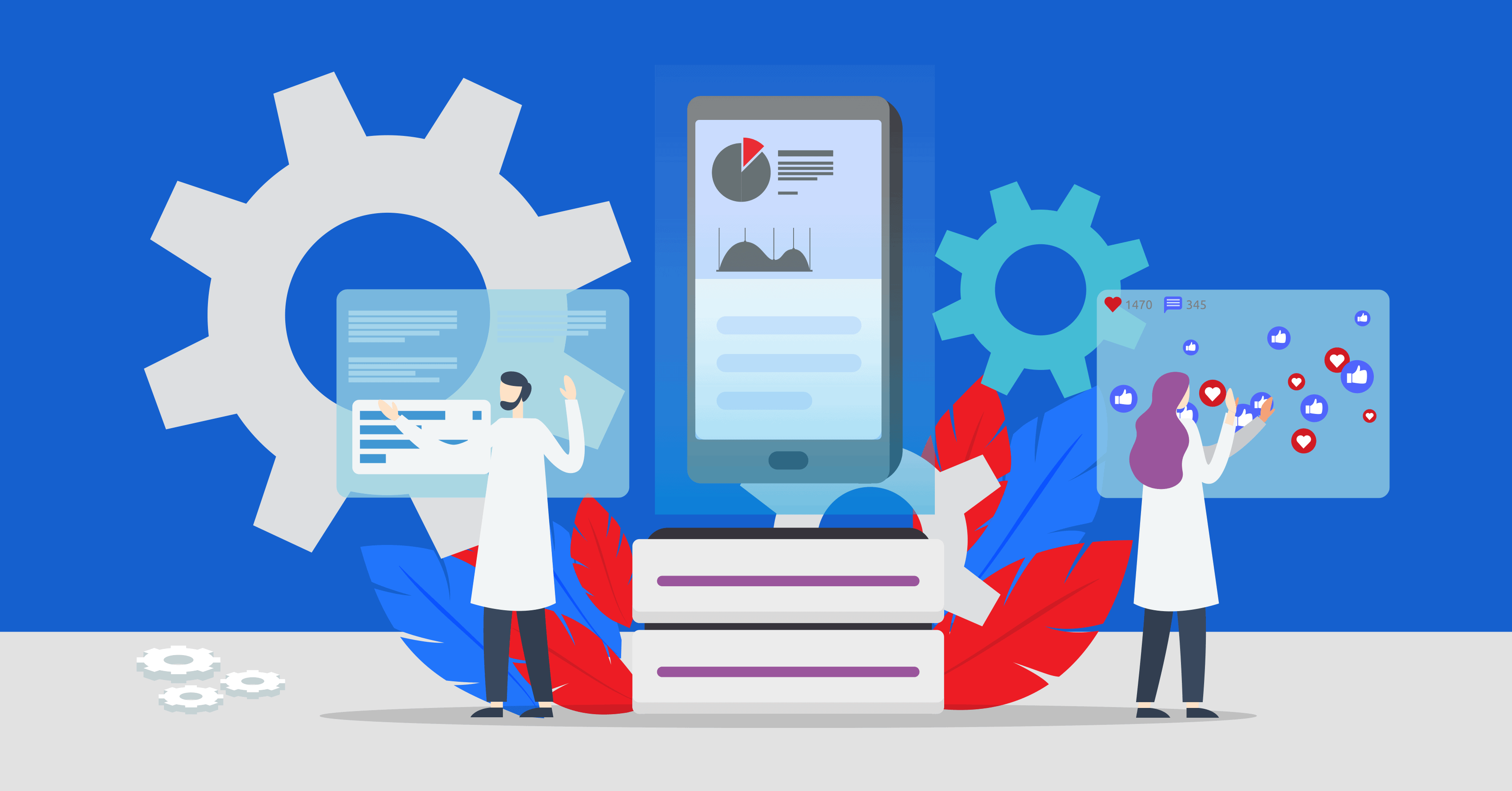 Social media marketing involves a wide range of process that needs to be automated. Automation of your processes increases productivity making your teamwork more effective. The main benefit of automation is that it generates plenty of nest-egg, reduces the time to accomplish certain tasks and what is more important reduces the need for multiple employees to implement the same function. Perfectly done automation will enable you to easily find out issues and inefficient parts in tasks, and clean up them instantly.
6. Spreading The Word
Today, in the age of advanced technology, getting information about any desired brand is a piece of cake. Social media is your opportunity to spread the word and reach millions of customers worldwide. Whenever you are ready to spread the word and build brand engagement, start by understanding your audience and ultimately build strong customer relationships. Here are some vital steps you should take on your way to spread the word and succeed:
Create Facebook and Instagram event page

Brand your promotions or events with hashtags

Share user-creates content

Use paid promotions on the platforms that are most efficient

Connect with people by responding to their comments and emails

Present your content in multiple ways
In fact, the opportunities are endless. All you have to do is find the direction in which you think your brand will be best promoted. Put your time and efforts into creative advertising and in the end, you will see that it was worth it.
Conclusion
Social media marketing- when done right can be your mascot for achieving success and spreading brand awareness. Today the opportunities are various and the ways to achieve them are definitely open and free. All that is required of you is determination, everything else will turn out automatically.
 In this small but inspiring article, we highlighted for you the primary steps you should include in your social media strategy. We imagine the amount of responsibility and realize that it will not be easy in the beginning, but we hope that somehow we motivated you on the way to making your business prosper.