Thriving for better sales and higher conversion rates for your site? Well, pop-up banner broadcasting will do the job for you! Pop-up banners are the greatest engaging aids that one can carry out on a website to raise sales at a rapid speed. Easily turn your website more successful and get great profit via alluring pop-up banners.
The best thing about pop-up banners is that they do not collaborate with users' actions on your site. It allows users/visitors to navigate on your website while the popup banner is there, showing your offer. Isn't it cool?
Including a popup banner stand on your website, you quickly get the attraction of the visitors. Add to this a beautiful design that will suit your website and catch visitors' eyes and you're done. You can have any content you wish in a popup banner.
Display time-limited offers, announce sales, or offer help. It's all up to your groove! Just follow some non-official rules to reach better success with retractable popup banners.
Make sure you make an inevitable offer in your pop-up banner content. The banner material means more than you may consider.
The pop-up design should be super-great! Make sure the look of your pop-up banner fits your site style and that the banner displays are attractive enough to catch visitors' eyes.
Do not rush! It's not a good practice to show the roll-up banners just the very moment the visitor goes over your site. Give them a little time and show your offer with some delay.
Targeting your audience will be a great idea. Show your pop-up banner to specific audiences specifically, considering their individual preferences.
Don't be too persistent. Allow visitors to escape the pop-up banner whenever they want. The pop-up display should be escapable.
Let's check some very useful instances of a pop-up banner implementation and boost your website sales together with Popup Maker! 😉
Countdown Pop-up Banners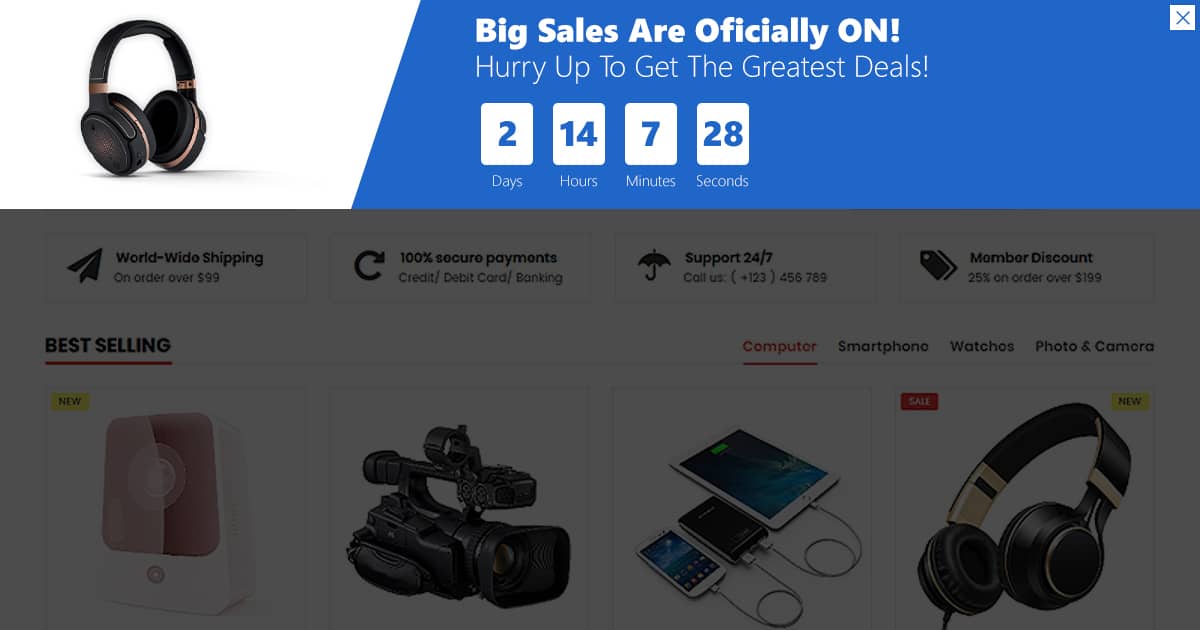 Pop-up banners or roll-up banners call them however you wish, are the ultimate means for showing engaging offers on your website. Ever heard about Countdown pop-up banners? Well, this is the perfect combination of an enticing offer in a popup, rolled up with a feeling of rush.
If you're an e-commerce website owner, let's say, you should know well that sales are the inseparable part of your ad campaigns. And what's the best way of announcing sales on the site? Pop-ups, for sure, specifically, pop-up banners. You can include any content you wish in your pop-up banners. But there's some really powerful element that will literally increase your sales for good.
The countdown popup element is that super tool that will perfectly speed up the shopping process on your site, so you will get more sales in a shorter period.
Just imagine, there are sales offered via a pop-up banner and that's perfect. But add to this a nice countdown element that will demonstrate to the visitors that the offer is actually time-limited. This is it! You can just sit back and watch how your sales will boost in a couple of days, hour by hour!
There's something that may improve this whole pack even more. Use various targeting options, like geo-targeting for better engagement results. You may have various sales that will more interest users from the United States, for example. This is why you can target your offers in the pop-up banner via geo-targeting options.
CTA Button Pop up Banners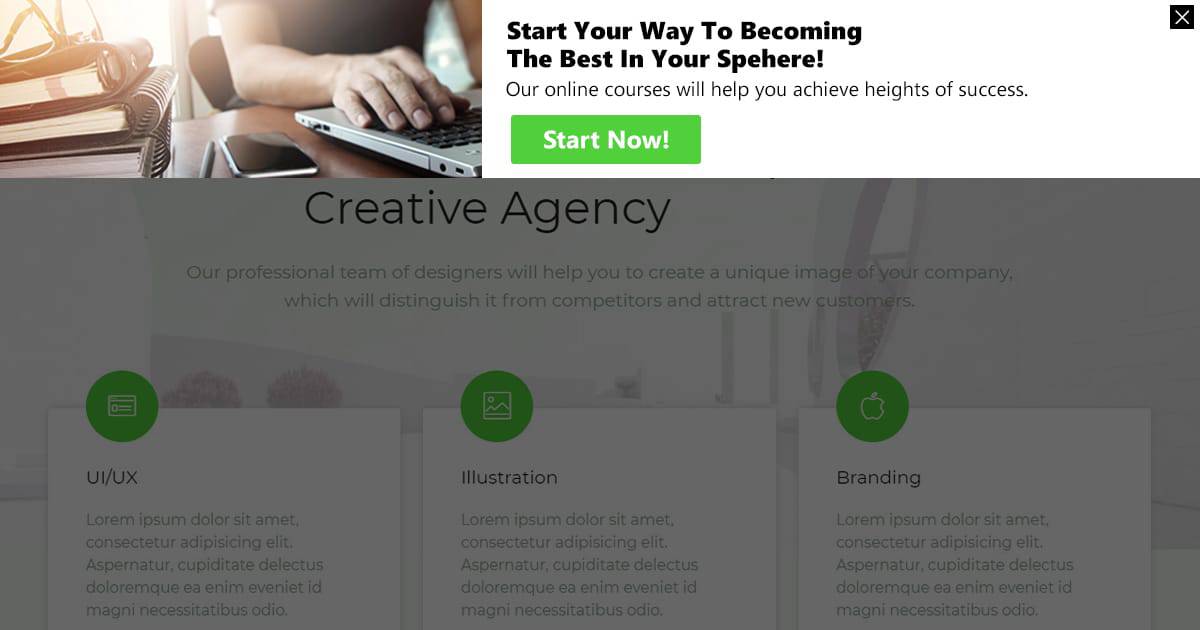 CTA (call to action) buttons are very useful and productive tools that one can use in a popup. The same is for pop-up banners. You are totally free to display your special offer in the roll-up banner providing a CTA button in it to direct users to specific actions.
It can be a free seminar offering, an online course or an offer to start a service, or a registration popup button anything you wish! The point is to move the interest of the users so that they click on the button to finalize your desired action.
Put the spell on the attractiveness of your offer. The text is very important. Write the offer in a way you would not be able to resist if you were to read it. It may be something like this: "Start Your Way To Becoming The Best In Your Sphere! Our online courses will help you achieve heights of success."
Convincing, isn't it? 🙂
So, when the visitor reads the text and decides to give it a chance, a simple button in the popup banner will direct them to a page for registration, or maybe download the course.
An important point in this practice is to consider the time of showing the offer. Business days will be a great time to show it, considering that most of the job today is connected to the Internet. So the chance of delivering your message to the visitor through the pop-up banner is higher on business days
Support Pop-up Banner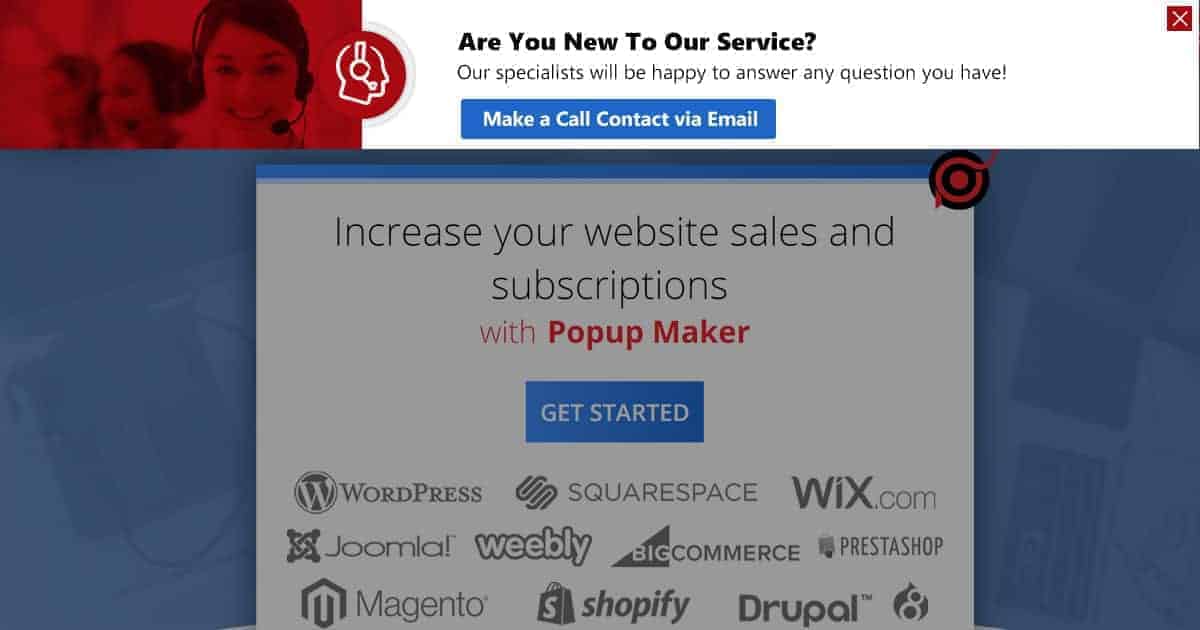 One of the chiefest things you should take into count when operating a website is to demonstrate to your users that you do care about them. Offer support in all possible ways. Support can be offered through a pop-up banner as well. You can include a button to a contact form popup or a call button. It's up to you.
Help is needed all the time, no matter what service you offer on your site. Be that a digital product, some creation service, or an online store, users will always need help. The point is to be there when they need it.
This is a secret practice that will not only fascinate your consumers more but also raise your sales. You may not imagine, but an answer to a seemingly simple question may bring you more sales. So just be there and show support.
An essential aspect of this practice is to not be offensive and provide a selection for choice to the visitors. When displaying the pop-up banner with a help offer, you'd better take into count that there may be some visitors who don't need help. This is why you should provide options for escaping/closing the roll-up banner.
Conclusion
Online marketing today is one of the most powerful means of promoting any type of business. Pop-up banners are one of the most effective means of showing an online advertisement or other offers in the clearest way.
These magic tools are here to increase the engagement on your website and lift your sales. The best thing is you don't have to be a prof to create such a roll-up banner for your site. Especially, if you have a good tool like Popup Maker service, things will go much easier. 😉
Consider the points discussed in this post and you'll have the results of conversion on your site that you would not even dream about!