In recent times, online marketing has become a trending aspect. People find it more comfortable to purchase online rather than visit physical stores spending hours together shopping.
But what makes them more involved in online shopping is unseen. I hope you guessed it.
Yes, absolutely it is "TRUST."
Trust is the most important factor for online business success. It is the same which has made people rely on shopping websites. But how do people have this trust for some of the large online marketing sites?
Have you ever imagined or given a try to know how this works? No? Then let me explain to you some of the essential techniques that build visitor trust in your website. If you are the one who is building your online marketing, then you can make use of these techniques (like GDPR compliance) to skyrocket your online sales through visitors' trust.  
Let's get started!!!
#1 Generate Content To Build Visitor Trust


We all know content is the key statistic that gains a user authority. By creating content that can grab your visitor's attention you can build visitor trust.
At the same time, make sure that you are not selling it to your customers, instead, try to provide your visitors' information that helps them. By doing you can make visitors return to you for your valuable content.
In a recent analysis by Moz, 53% of consumers have shown interest in in-depth content which indeed attracted them to their business.
When people are in search of valuable information, and if you are providing it, then they are automatically driven to notice your other services. So it is good that you build a resource library for your customers, to build visitor trust.
#2 Adding Badges Could Build Visitor Trust


If you are someone who is more concerned about quality or you have a cashback option on your business website then get it promoted using a badge.
If you are providing a one-year warranty or a 30-days cash back option, then you can display it on your sales page using a silver or gold label. You can obtain your visitors' attention.
Placing a gold label along with the call to action would be highly recommended. Never prefer colors like red as that may keep visitors away from hitting the call to action button.
Make sure that whatever color you use is in contrast to the others. By doing so, the badges can highlight a better response from the crowd.
#3 Online Payment Security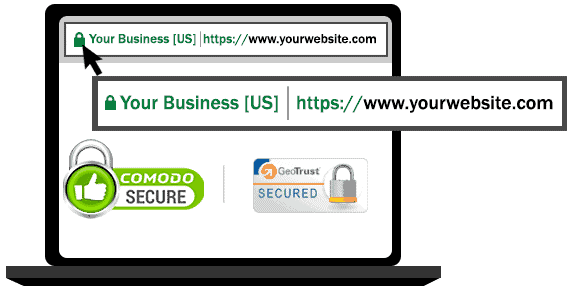 A common factor that people are always concerned about is the secure payment method. Every business website should have an SSL certificate for safe money transfers.
If a website is going to fail or skip this certification then automatically the site loses its credibility. And that is why most e-commerce websites make use of these SSL certificates without fail.
Most high brands make use of the Extended Validation SSL certificate, which protects you from a phishing scam. When a customer enters their personal information on site, ensure them that the data will be secure due to enabled trust indicators such as a green padlock icon, Green address bar, a Site URL begins with https://, and a Valid Company name in the browser address bar.
Make sure that your "Secure" label in the browser address bar helps to increase customers' trust. Such visual trust indicators impact on your sales pages, which build confidence on your website. Whenever people notice these payment security logos, they find it more trustworthy to share any of their personal information on your site.
#4 Frame a Strong About Page
Many of us neglect or skip this section. But this can help you in the long run with your first-time visitors. There are chances of making those first-time readers into your regular ones.
Make sure that you generate reliable and authentic "about us" content for your readers that they find appealing and trustworthy. You are building an identity with the business. You can add some more essence to your "about us" content by giving your personal touch.
It is appreciable if you are displaying a photo of your whole team along with a description of their skills. Give your clients an idea of who they are and who they may be working on their future projects.
#5 Trustworthy Testimonials
This is one of the brilliant ways to build visitor trust in your products or services. If you can get anyone to endorse your product or service with document quotes it is well and good.
On the other hand, breaks the wall of doubts, that people usually have while browsing the web. Some people are good at the "Me too" mentality which is the perfect way of a testimonial. People always love to be involved, and if you are delivering such testimonials, then you are already solving a part of their problem.
When people identify testimonials that had similar problems to the ones they currently have, they predict that you have the best solution for their current situation. Now you may know how one could gain trust among visitors.
#6 Display Social Proofs
People are so much involved in social media. Anything from social media platforms could get visitors' attention. You can make use of this strategy to grab your visitor's attention and trust as well.
Give your visitors social proof that your business is the leading and the no #1 company in the industry and I promise you will get better engagement than you expect.
For example, you can have your social shares, previous interaction on social media, and much more on your business page. It will help your audience know that you have authority in the market.
#7 GDPR Compliant Forms
EU parliament has recently made an announcement, which requires all the websites to be GDPR compliant. GDPR compliance is for General Data Protection Regulation. This is to protect the users' personal data which they provide on websites, through various forms.
The law will find the websites that are not GDPR compliant since 25 May 2018.
Popup Maker is forearmed with GDPR compliance for the customers. Now you can create Subscription and Contact form popups for keeping the engagement with your users, not breaking any EU laws.
The only thing you should do is add a GDPR compliance checkbox inside your form, and make it a required field. Let your users know that the Subscription of Contact form popup will collect their data. And, if the user is not ok with sharing their data, they will simply not fill in your form inside the popup. Fair, isn't it?
Believe me, this will grow the trust among your customers, as they will appreciate the fact of you keeping them informed.
This will grow the conversion of your online marketing, providing you with more flow and income.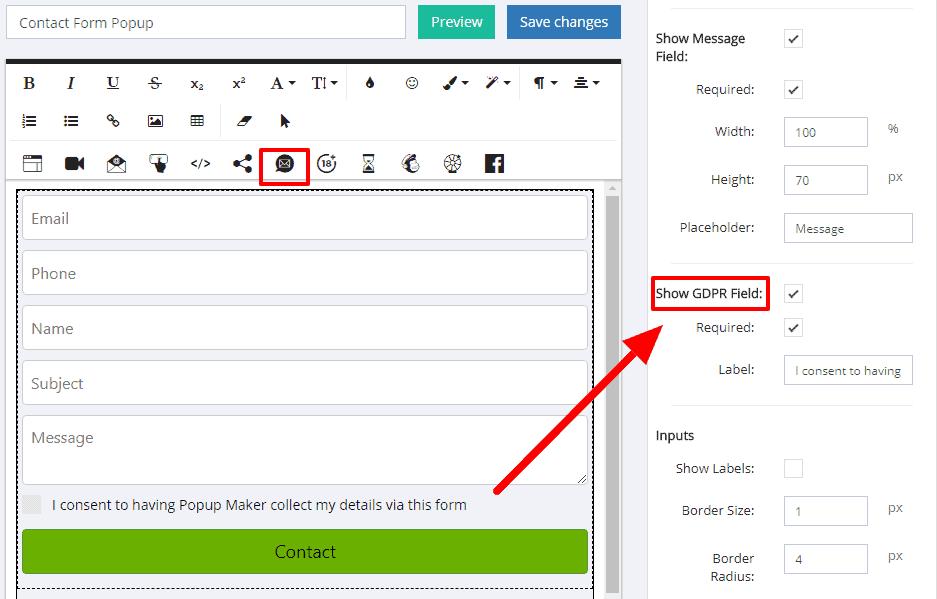 Wrap Up
If you are looking out to build visitor trust among your customers or visitors, all you need to do is follow the strategies mentioned above.
I can promise you that all of these strategies could work for you and your online marketing. Make sure to build visitor trust that you never miss your audience in any circumstance.