Up-selling and Cross-Selling is a super weapons for sales strategy. Here you may offer and advise equivalent or better items to the customers depending on their preferences and their interests.
These are quite popular sales strategies, which have been used for decades by sellers of all types. These are perfect strategy types providing a mutually beneficial outcome for both, the seller and the customers.
Researches show that about 33% of customers make purchases from the same company/shop being there for 1 year. 
Although the eCommerce owners mostly forget about their old customers while they are busy gaining new customers, the old customers are the ones you should rely on.
Putting all your forces into drawing new customers, you should never ignore your old customers and always keep engaged with them.
This is why it's so important to know various marketing strategies, including Facebook Ads, like up-selling and cross-selling in order to keep the balance with your old and new customers.
Driving cross-sells and up-sell marketing campaigns with your old customers will assure their lifetime and mean order value, thus boosting your sales.
What is Up-Selling?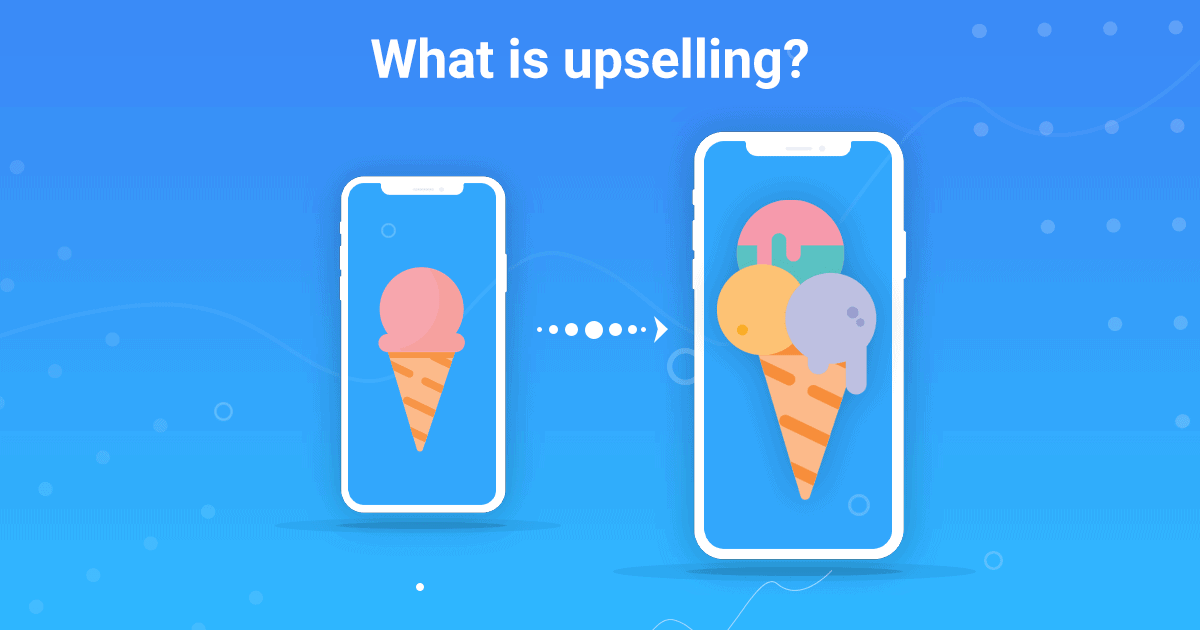 Up-selling is a sales strategy focused on convincing customers to purchase a more expensive, upgraded, or pro version of the product or other extensions resulting in more sales. 
The image itself shows how the up-selling works on a simple example of additional, upgraded ice-cream balls in the waffle.
Up-selling helps eCommerce owners to become more engaged and connected with customers. This is not some kind of tricky strategy for your customers.
The point, in this case, is to simply concentrate on helping your customers come out in a winning condition. Serve your up-sell offers as a better option than the customer may have had. Make your customer believe that if they have a higher package or the extended product, they will gain much more, paying just a little bit more.
Keep in mind that it's much easier to up-sell to your old customers rather than to obtain new ones.
As mentioned, it's always easier and a lot cheaper to enhance the sale to your old and loyal customers.
Just because they already have trust in your service/company and have already made purchases on your store before.
The chances of successful up-selling to the old customers are much higher (60-70%) than to new customers (5-20%). 
What is Cross-Selling?
Cross-selling is a sales strategy that concentrates on boosting sales, offering additional, coupled, or escorting products to the customer who is already making a purchase at that moment.
McDonald's iconic phrase is the best example of a cross-sells strategy: "Would you like some fries with that?".
The example in our image is very similar to the McDonald's example, as a cold drink and a muffin are offered as a pack, along with the ice cream that the customer initially intended to buy.
The main idea of cross-selling is selling more items not forgetting about the interests of the customer. Offer something that's really related to their initial choice. Assure the customer they will only win if they get the perfect pack that accompanies their selected item.
The results of successful cross-selling will be an increase in your sales and customer satisfaction because the product pack you offer will completely fit their needs.
Up-selling & Cross-selling tips for popups
Up-selling and cross-selling marketing strategies are a great way of reducing shopping cart abandonment. All the eCommerce sellers are familiar with this negative practice. 
As we already know, cart abandonment arises when the customers add items to their shopping cart and leave the store without completing their purchases.
There are various methods for stopping this unpleasant and harmful practice for eCommerce owners. We have discussed many interesting tips for this in our previous posts.
Let's see how up-selling and cross-selling can help with this task.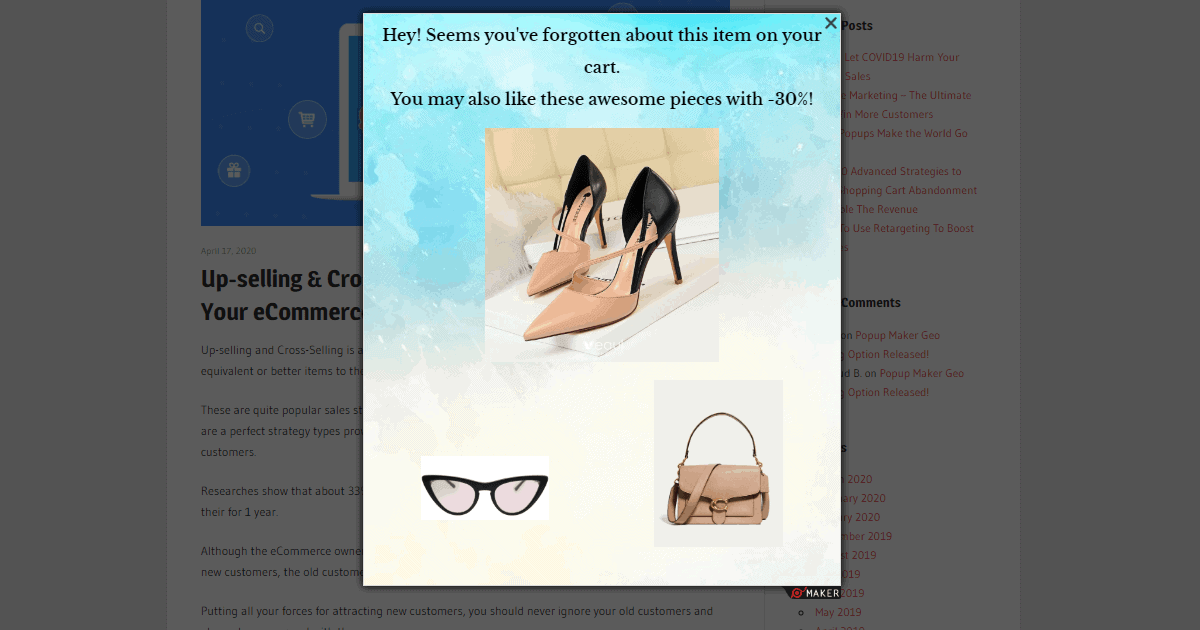 When it comes to reverting to abandoning customers, exit-intent popups are always the best solution. Nothing else can be more effective than a popup message quickly reacting to the user's action. 
Displaying an enticing offer just when the user is going to leave your website, can be the best way of keeping them in your store. 
Implementing cross-selling techniques along with exit-intent popups can benefit your sales, not only converting the abandoning customers but also selling more items. 
Sometimes customers really forget about the items they add to their shopping carts. Or maybe they leave not being sure they really wanted the items they added to their shopping carts. 
This is why you need to implement some kind of a reminder to the customers not to let them leave without completing the purchase. Offer more items that are like the one the customer has purchased. Suggest items that may form some kind of a pack of several items, with a discount for all. 
This way, the customer will not only be reminded about the item they left on the cart, but also may purchase more, seeing the offer with the discount in addition.
As a result, everyone is happy. You sell more stuff, and the customer gets more items at a discounted price.
Conclusion
Now, let's sum up the researches and statements to understand the benefits of upselling and cross-selling for your eCommerce sales lift.
Cross-selling will increase the conversion rates of your store
Both of the strategies are flexible and convenient for your store
These easy techniques keep your loyal customers forever
Provide you with options for balancing your old and new customers
Enhance the relationships with your customers building more trust
Allow customers upgrades and result in mutually beneficial deals
Make it easier to sell more items (even with low ratings)
In fact, we can be sure that up-selling and cross-selling strategies are a great way of pushing your eCommerce sales. Moreover, these strategies allow you to gain more customers and keep the old ones. 
Just take advantage of implementing cross-sell or up-sell marketing strategies on your eCommerce to boost your sales. Keep engaged with your customers, and make your offers before they have completed their shopping on your website.