Targeting your online audience is great, but re-targeting is even better. 🙂
Retargeting is a genius way to get your targeted users back and get more results. A perfect way to keep the bond with your users/customers and reach more success.
Various re-targeting means are known, including onsite re-targeting. The onsite re-targeting is proceeded via Exit Intent technology. A great way to catch the user and get back to your store. 
In this post, we'll share some tips showing not only onsite targeting solutions, but also web push notification. See also newsletter and autoresponder tools for retargeting purposes.
Onsite Retargeting via Exit Intent Coupon Popups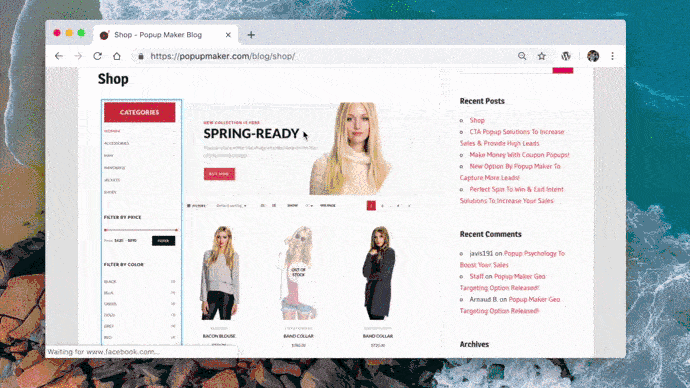 Coupons are something all the users love. These are kind of magic tools that can push any customer for more shopping. This is just a perfect way to promote more sales on your store. Offer sales and get more shopping.
Add an exit intent triggering to this popup and you'll have a perfectly converting retargeting solution. Just the moment the user tries to leave your site, he/she sees the super-enticing offer and gets back to your site and heads to shop.
Various coupon popup examples are available for this case, one of the most enticing ones is the Spinner popup coupon solution. A very engaging popup type that attracts the users with its look and the functionality at the same time. 
We all like games. So a spinner popup coupon will be just a perfect reason to stop and come back to the store. Retarget your customers with coupons for various occasions and you'll never miss a customer!
Onsite Exit Intent Contact help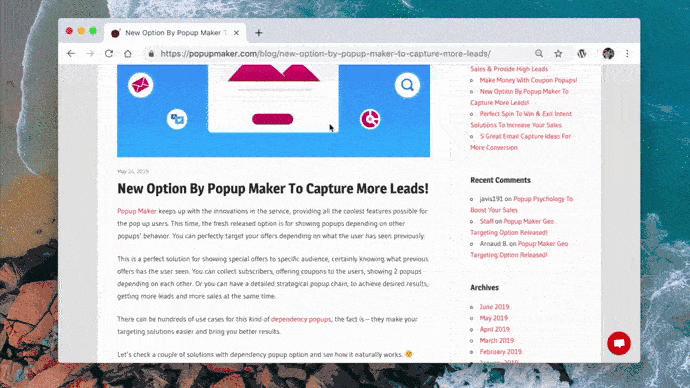 Another very useful instance of an onsite exit intent retargeting is a Contact form popup. 
As a responsible and caring website owner, you should always show your customers that they are important for you and you care about them. 
Hundreds of visitors come to your site every day, and most of them may have questions regarding your website. This is why it's very important to always keep the connection with them and be available for chat or email support.
Contact form popups are just a perfect solution for this purpose. A compact popup box containing a simple contact form that can easily be filled. No time and efforts needed. Just a simple form and a text that shows you're there for them in any case.
Just set up the contact form popup on exit intent on your site. Catch the users when they try to leave your site not having found answers to their inquiries. This will definitely bring more conversions to you and result in great sales on your online store.
Web Push Notification Retargeting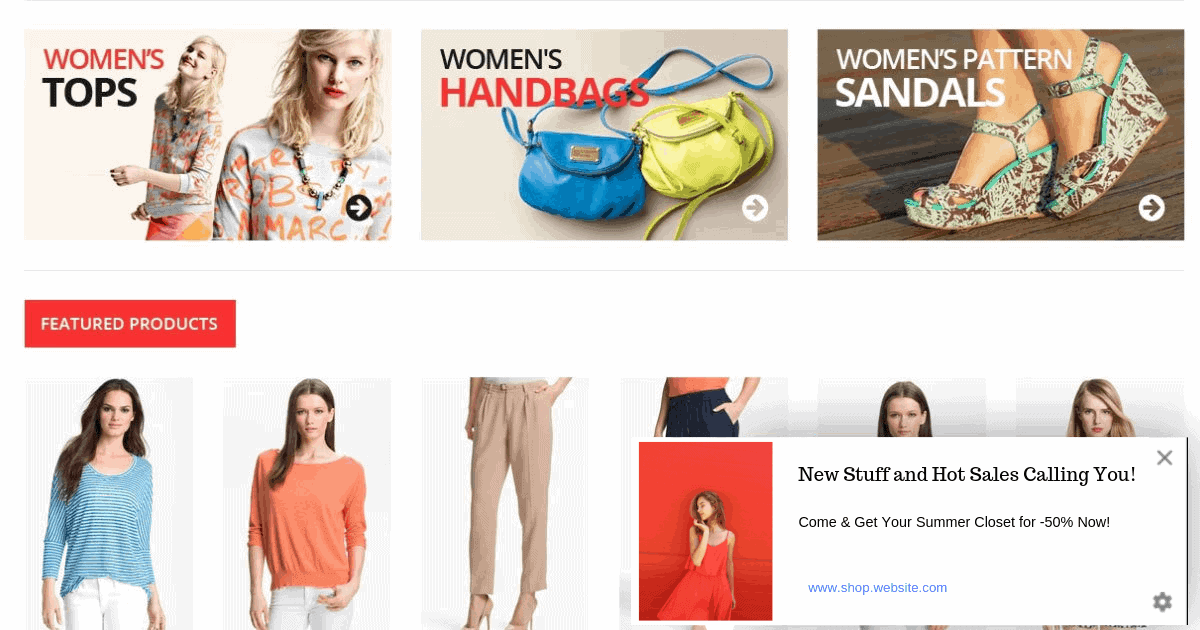 Ever been asked to allow some service/website to send you notifications for updates or other important notifications? I know you have! 🙂 It's called web push notifications.
These are just a perfect converting means that can promote any website sales. The greatest advantage of web push notifications is that they work on browser level, not depending on a website the user is. Once the user allows you sending them notifications, you got the wheel!
This opens your way to keeping a firm bond with your customers, calling out about every single update on your site, including sales, new collection and more.
Just imagine. You have a brand new stuff in your store and you want to notify your customers about it and get them to your store. Web push notifications will be an ideal means to send notifications just in a couple of seconds, with one click and see the flow to your store. You'll definitely have more sales in a short period and this will be steady.
Autoresponder Retargeting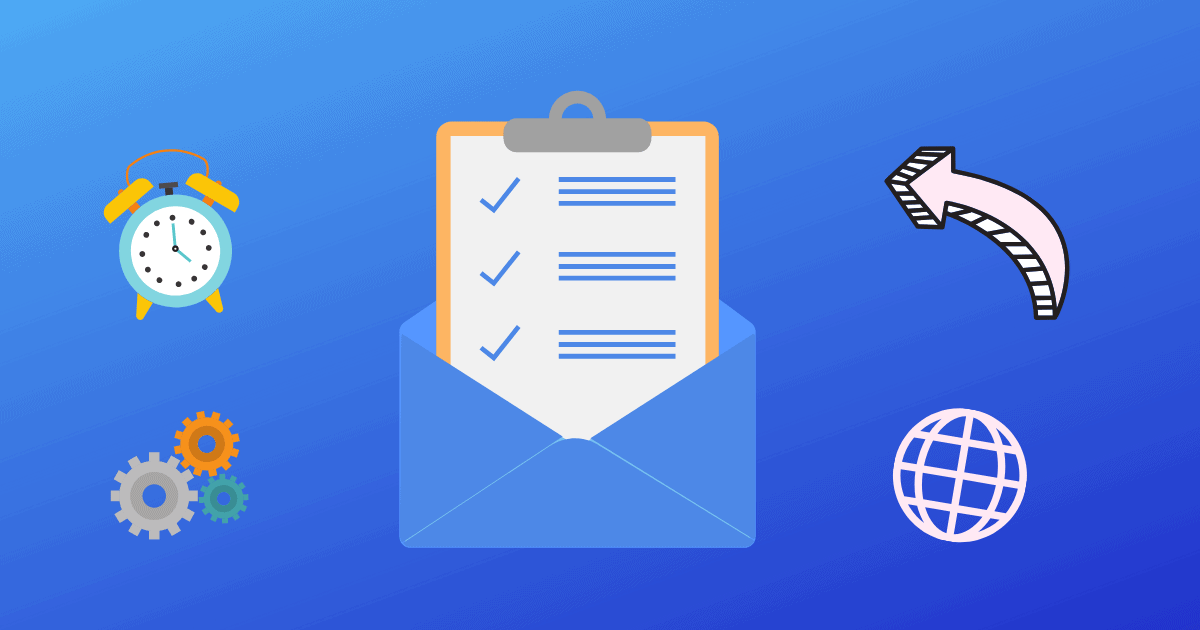 Autoresponder is a perfect time-saving retargeting means which takes no efforts and no time from the website owner. Set it up once and it will automatically be sent every time a new subscriber is added to your list. 
A perfect follow up means that can keep the connection with your customers and always keep them updated about every single news on yours site.
If that's a blog, then your subscribers will learn about every new post you publish.
If it's an online eCommerce shop, you can notify your subscribers about sales on your site. Notify about new collection, notify about low stock. Anything that you think can help to promote your business!
The best thing is that this solution is automated and will take absolutely no time and efforts from you!
Newsletter Retargeting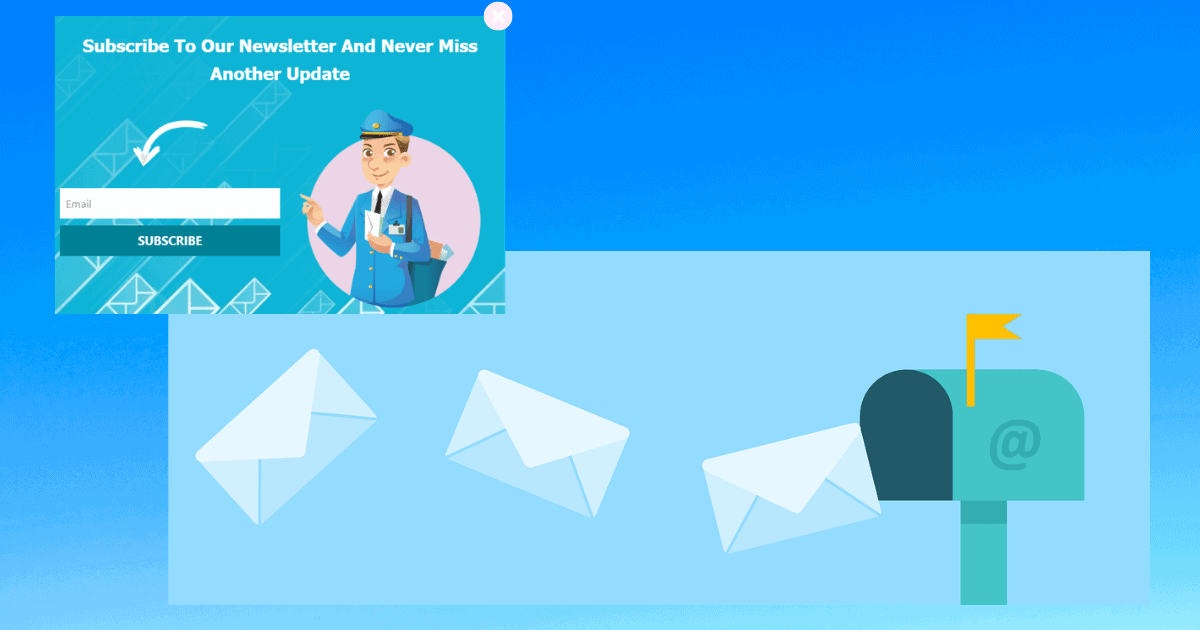 Newsletter retargeting is an alternative to the Autoresponder tool, it's kind of a manual version of it. The key factor of the newsletter retargeting is collecting as many subscriber emails as you are able to. 
This can be a a really easy task if you have a highly converting subscription popup on your site. Think about means for collecting subscribers. Not all the users want to subscribe to your email list.
This is why you should bribe your users with discount coupon codes, with free shipping, with free e-books or online courses. To be short, you should think about means of convincing the user to subscribe to your email list. 
Another important point is to note the importance of being a part of your email list. Show the importance mentioning about important updates. Mention about essential announcements and sales that they will constantly be receiving if they are part of your email list.
Collect a great number of subscribers, you are ready to go! Keep retargeting them with your newsletter emails and have the constant flow to your site!
Conclusion
Website retargeting is one of the greatest solutions that includes various means to get the most profit for your site. 
Knowing some effective variants of retargeting you can boost your sales in a very short period with less efforts you could think of.
Make enticing offers on exit intent and get your users back to your store for more shopping!
Implement powerful web push notifications, autoresponder and newsletter options for getting the maximal profit retargeting your customers.