Popup Maker alternative to OptinMonster.
Popups are the ultimate tools to bring the best conversions to any website. The best effective way to show your offers and boost your business is on the net. Dozens of popup types can be created for every occasion and purpose you may need.
If you want to promote your website to get more sales and conversions, you need to pick the perfect popup tool that will be the best suited for your site and your preferences.
A correct tool is the start of a profitable marketing campaign. You can have the best conversions and best income if you have the right tool for your site.
Several aspects are there for you to consider when selecting the perfect tool for your site.
Let's compare 2 of the greatest popup tools: Popup Maker & OptinMonster.
Popup Elements
Popup elements are one of the most essential parts of any popup tool. The more elements the tool has got, the more flexible and versatile its usage will be. This can tell a lot about the level of easiness of tool usage. So, let's check the elements Popup Maker and OptinMonster have.
Both have a lot of popup elements and support 3rd party plugins/tools used in the popups.
Popup maker goes ahead though, in some major points.
It has a Contact form and Social popup elements that are missing in OptinMonster.
Another, real important point is the customization level of the popup templates.
One should be a techie in programming to customize the OptinMonster templates. Popup Maker templates are easy to customize for even newbie users.
The next great feature that's missing in OptinMonster is the combination option of Multiple popup elements in one of Popup Maker. You can add several popup elements in one popup and have multipurpose, effective campaigns.
| | | |
| --- | --- | --- |
| Features | |   |
| Countdown timer | | |
| Restriction, Yes / No Forms | | |
| Spinner | | |
| PayPal Button | | |
| Video | | |
| Facebook Page | | |
| Floating Button | | |
| HTML | | |
| Mailchimp | | |
| Image | | |
| Campaign/Subscription | | 3rd party service forms only |
| Autoresponder | | |
| Contact form | | |
| Social | | |
| Google Map | | |
| Multiple popup elements in one | | |
| Easily customizable templates | | Requires some technical skills to customize |
Display Events
Popups are so effective and attractive due to the way they are triggered. Display events help you to choose the right and the best appropriate ways to show your offers to target the right audience.
Both, Popup Maker and OptinMonster have a bunch of the necessary display events for a popup.
There's one display event in Popup Maker, that's not included in OptinMonster, the On hover one.
Imagine, a user is on your pricing page, hesitating about buying your product. Just when he/she navigates the mouse cursor on the pricing table, you can show an enticing popup to convince them to make the purchase.
One more, the Autoclose, option in the list is missing in OptinMonster. An Autoclose option can help for you to guarantee that the users are informed of your offer for 100%. A great combination of the Autoclose and Disable popup closing will help you to show your offers and be sure everyone sees them before closing.
| | | |
| --- | --- | --- |
| Popup Opening Events | | |
| OnLoad (+Opening delay) | | |
| OnScroll | | |
| OnClick | | |
| Exit-intent | | |
| Mobile Exit Intent | | |
| Inactivity | | |
| On Hover | | |
| Auto Close | | |
Positioning Options
The position of the popup can play a great role in a cleverly constructed campaign. It's important to have an opportunity to select different positioning for different purposes of popups.
OptinMonster offers a variety of Campaign types with fixed positioning for each. This is actually great to have such a great variety of choices, which are really great. But the bad thing is that you can't edit a campaign positioning if you wish to. They are all fixed.
This is when Popup Maker appears again with the flexibility of its options. Popup Maker offers both, fixed and custom positioning options. You can select any of the fixed position options, or add your custom one, that will perfectly suit your requirements.
| | | |
| --- | --- | --- |
| Popup Positioning | | |
| Custom | | |
| Fixed | | |
Drag 'n' Drop Options
OK. Let's see what "drag 'n' drop" actually means. This is the construction of a popup (in this case) editor, that allows you to drag (select) and drop (place) each popup element on the exact place you want. This is the factor of easy customization and the building process.
What we have in OptinMonster?
There seems to be a drag 'n' drop feature. But it's not really what it should be. The layouts are actually fixed, and you can't edit them dragging and dropping the elements. You can only change the text look. And additional changes with the layout will require some technical IT skills.
What Popup Maker offers is exactly what the drag 'n' drop option is supposed to do. Easy to customize and replace, and re-position, and add every element in the popup layout. Without any tech skills!

Registration & Refund
What we like about the registration process in any service/website is having an opportunity to do that for free. It's really important for every service to provide at least a couple of days of free period for the new users. That can be really disappointing to see that you'll be charged not even having started to use the service.
This is how OptinMonster processes the registration. Of course, they have a 14 days refund guarantee, without any questions. But you can't but agree that the start is a bit disappointing.
Popup Maker is free of such kinds of "drama". You simply go to the site, click "Register" and register an account without any credit card details or charges. Even more, you are provided with 14 days of free trial for the service, so you can check it out for a while. And, of course, Popup Maker as well, guarantees a refund, but for more, 30 days.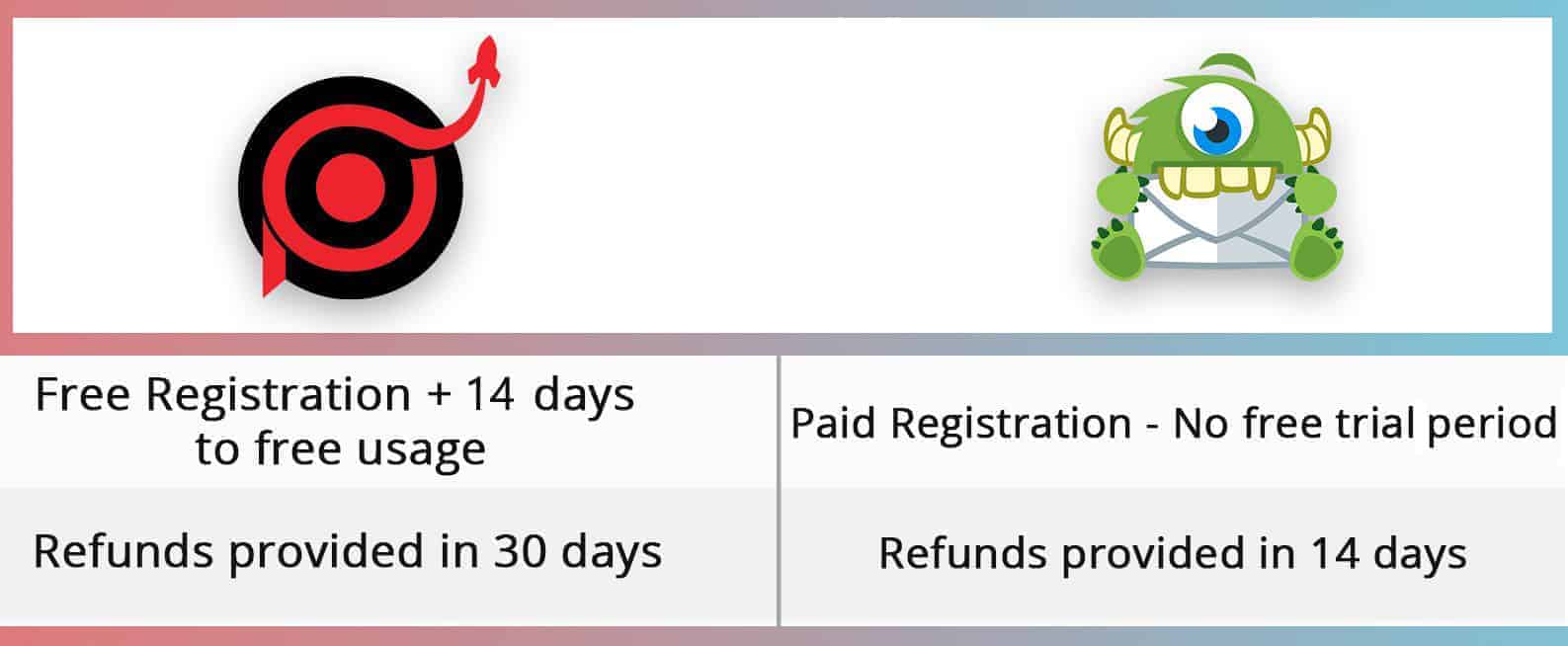 Pricing
Pricing is one of the decisive features for any product selection. Especially, when almost all the features are equal in 2 products to choose from, the price is the point you rely on for selection.
So, let's compare the pricing of Popup Maker and OptinMonster.
| | | |
| --- | --- | --- |
| Service Price | | |
| Yearly payment option | | |
| Monthly payment option | | |
| Cheaper Reasonable prices | | |
Popup Maker appears to be really flexible in pricing options and conditions. You may choose to pay monthly, which is a great plus. This gives you freedom in your future decisions.
OptinMonster provides only the "Yearly" payment option. In addition, it's a lot more expensive than Popup Maker.
Considering that Popup Maker has all the needed options (and even more) that OptinMonster does, I think, the choice is just obvious. Why pay more?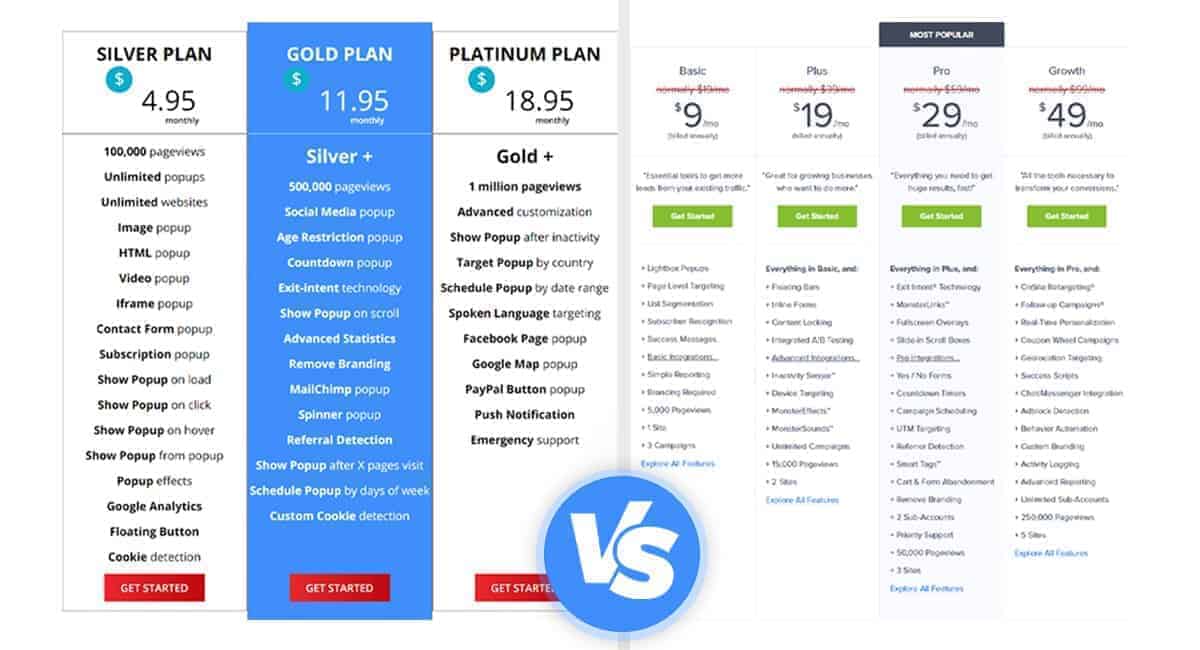 Conclusion
Summing up all the compared features, we can definitely conclude that Popup Maker could be the perfect choice for any website owner that needs to boost sales and increase site conversion. Why pay a triple more expensive price for OptinMonster, if you can get a lot more cool features at a much lower cost with Popup Maker?!
Go ahead and check it out here: Popup Maker
Don't forget about the free registration and 14 days trial period! 😉
Note: PopupMaker uses the OptinMonster™, displays it's logo & trademarks and is not endorsed or certified by them. These items remain the registered trademarks/property of Retyp, LLC.