Gamification is the act of using game-like mechanics to engage and motivate users.
Gamification has become one of the popular techniques for increasing engagement across digital channels. More than 93% of marketers now use gamification in their marketing initiatives — for a good reason.
You can use it in numerous digital marketing contexts, including social media, email, and content marketing. According to the research by Gigya, gamification increases social share by up to 22%.
Gamification works because it taps into our brain's natural tendencies toward competition, achievement, and storytelling. It helps to increase the engagement 1/3 by activating the emotional side of the brain, so it makes the brain work harder at solving the problems.
This article will show how to use gamification in digital marketing to boost engagement and improve conversion rates.
What is Gamification in Digital Market?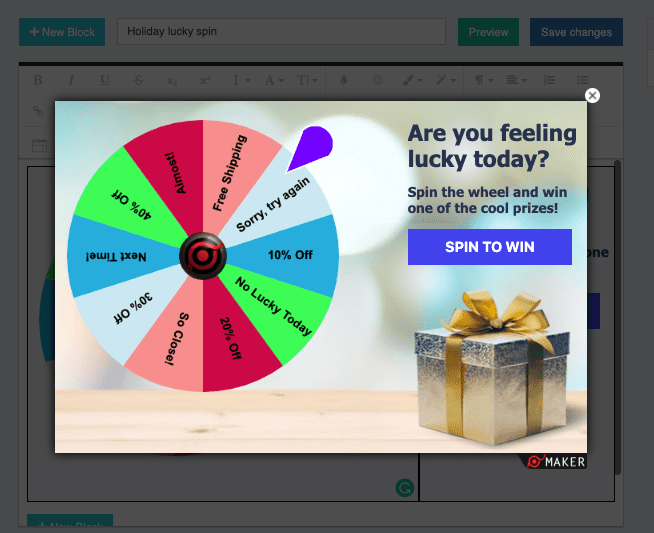 Before going any further, let's define the term "gamification". 
Gamification is the way of adding or integrating branded gaming components into your blog, email, and other marketing campaigns.
The primary objective is to excite the audience and attract new visitors and increase traffic to your website, which is done by turning everyday activities into games or competitions. 
For example, you create a quiz for your readers, and they compete against each other to answer it correctly and quickly. The winners win a prize at the end. They get only fun from the game experience, but the organization gets huge benefits. 
It is a great way to increase engagement and conversions on your website. You can offer your users something valuable in exchange for their data and build trust between your brand and your fans.
Why Should You Use Gamification in Your Digital Marketing Strategy?
Gamification in Marketing gives you many benefits. Here is the list of benefits:
Increase User Engagement:
As you understand from the definition of gamification, it is about turning your website into a game environment to excite the audience/users. When you create a game environment on your website, the user will play the game and get engaged with it.
It increases user retention time on the website and encourages them to spend more time on your site and come back later.
When the user revisits your site, they will remember that they already played the game on your site before and will be more interested in coming back and playing it again. Thus, it helps increase user engagement with your brand and improves user experience on your web/blog site. 
Improve Brand Awareness: 
If your users/customers keep returning to your website after playing the game, it will increase your brand/product awareness among those users, and they will learn more about your brand.
In this way, it will help you gain brand visibility among your target audience. Also, it will help increase brand awareness and sales for your business.
Create More Social Shares:
Gamification can increase your social share also. When your users play your game, they naturally want to share it with their friends or family on Facebook or social bookmarking sites or make a contest to share the game.
For example, you can create a "share to win" contest for subscribers to share your contest post on social media networks like Facebook, Twitter, LinkedIn, etc. 
Thus, it will promote your website and generate traffic to your website through social shares.
Improve Conversion Rates:
Providing users/customers with something valuable will help improve your conversion rates. It will also improve brand loyalty. And when they keep coming back to your website to play your game again, it will also improve brand recall. It is a win-win strategy.
Inform Your User About Your Product or Service:
You can utilize gamification to help the users know your product or service in a better, more innovative, and engaging way. While playing, users will play the game and learn more about your product/service. It can also help you attract new users to your business. Some good examples of such games are Pokemon Go, Clash of Clans, Candy Crush Saga, and many more.
Know Your Right Audience:
By using gamification on your website, you will know your audience better and know what they need and are interested in.
Knowing their interests, you can create more engaging content for them in the future. You can also ask them their opinion on your site to know what they think about your post.
This way, you can engage them more with your content and improve your relationship with your audience. These were some of the prominent reasons why businesses look for developers for hire to integrate gamification into their marketing strategy. 
Gamification Marketing Strategy
When you incorporate gamification in your marketing, you not only get to attract new customers but also keep your existing customers engaged with your brand. So, here are a few strategies that you should keep in mind: 
Make it comprehending :
When you are creating a game for your website, make sure it is easy to understand and easy to play. Don't make it too complicated for users to understand. It should be entertaining as well as educational.
Anyone can play your game, so make sure that your game is inclusive and accessible to everyone.
Attractive design:
Use colors and graphics to create an exciting game environment that engages your users. Make sure you use images that are relevant to your business/industry for better branding. 
If your design attracts the users to click the 'play' button, you have done your job well. So, you must be creative and pay attention to even the most minor details while designing your game.
Enjoyable:
Your game must be enjoyable and entertaining.
A dull or repetitive game won't help you attract customers to your site. Make your game exciting and enjoyable for players, and they will keep coming back to your website repeatedly.
If your users enjoy themselves while playing your game, they will be more likely to share your content on their social media profiles and promote your business. 
Reward:
You know the importance of rewards in your marketing strategy as a marketer.
People love rewards. So, when you reward your users/customers for playing your game, they will be encouraged to do so again.
You can provide rewards like points, badges, levels, and much more. It will help keep them engaged and increase engagement rates with your brand.
You can also offer discounts on your products/services as rewards for playing games. It also encourages the users to purchase your products/services and increase sales for your business.
By offering rewards to your players, you can encourage repeat purchases and motivate them to share their experiences with others. This will indirectly promote your business and help drive more traffic to your website.
Ways to boost engagement with gamification in digital marketing:
Quizzes: Everyone loves quizzes. And people love sharing quizzes too. If you want to engage your users, create a quiz for your users. Ask them questions and get to know more about your customers. It will also gather user feedback which you can use to improve your website or products/services. Quizzes are the best way to boost engagement rates with your website. 
Spin The Wheel: This is a great feature to add to your website. Also called Wheel of Fortune, it involves a wheel with a pointer around which users can spin the wheel. 
When they stop spinning the wheel, they will see a highlighted item/offer/discount/prize. It helps in making your website more interactive. Users can see different offers with the pointer and decide which offer they would like to see by spinning the wheel.  See how to create a spin-the-wheel pop-up with exit intent.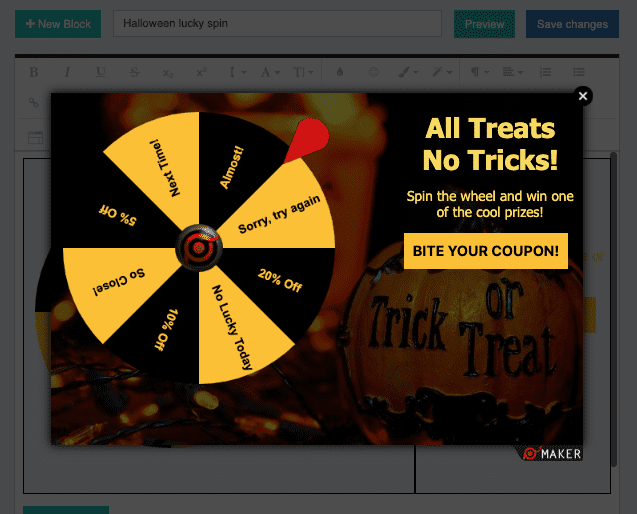 Badges: This is another way to attract customers and earn their loyalty. To engage your customer more, you can include ongoing levels or stages where the user gets rewarded with badges. In one way, it keeps the user excited and curious and improves your word-of-mouth advertisement.
Tailored DIY: Nowadays, "do it yourself" is a trending thing and people like to design, create or re-structure things by themselves. If you can align your offerings in such a way that the visitors can create DIY things on your website, it will generate huge engagement. 
For example, if you have an interior designing business and you allow your website visitors to do basic design for their home interior by themselves, imagine how excited they will be. 
Scratch and Win: Create a scratch and win feature on your website. Users can scratch the surface to reveal a prize when they visit your site. Scratching and winning are exciting features on your website that engage users more and make them return for more.
Contest: Contests are one of the best ways to increase engagement rates on your page. They can be simple polls or more complex features, and you can create a contest on your website and ask your users to participate. You can offer prizes to users who participate and share their contest entries on social media.
Conclusion
In this article, we've discussed the importance of gamification in marketing. Also, how to implement gamification to boost engagement rates with your brand. Digital marketing is a growing trend and adding this to the gaming market can help you to take the game to the next level. Gamification is proven to improve engagement rates with your website. Digital marketers use gamification to increase brand engagement rates, boost conversions, and promote user engagement.
Author Bio
Jigar Agrawal
Jigar Agrawal is Digital Marketing Manager at eSparkBiz. He is passionate about anything related to Digital Marketing. Wants to unlock the world of technology and Social Media where every day there is a chance of new possability as well as innovation.
Linkedin: https://www.linkedin.com/in/jigar-agrawal-seo-expert
Twitter: https://twitter.com/agrawaljigar1