During Valentine's Day, as customers are trying to satisfy their loved ones, marketing specialists aim to please them. The increase in customers satisfaction leads to an increase in sales. If you are looking for ways to enrich your Valentine's Day Marketing Campaign, you can stop searching. In this article, we want to offer you a solution that can make a well-structured marketing campaign even better. The solution is Pop-ups. Pop-ups easily advertise content without harming the website's interface and traffic. Now, let's take a look at the list of the Valentine Pop-ups templets designed by the team of professionals at Popup Maker. The featured pop-up templates have helped our clients increase their ROI and stay satisfied with our service. So, let's dig in.
Build Email List with Valentine's Day Pop-Ups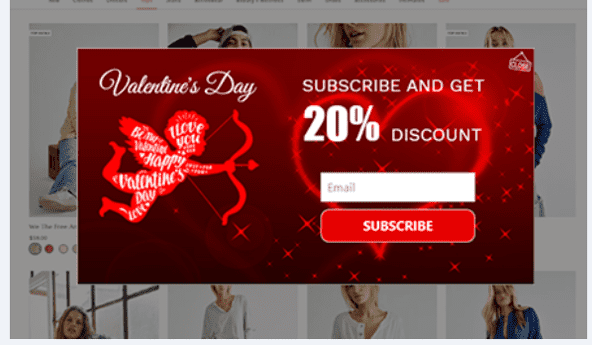 This pop-up example features a small discount in return for subscriptions. Beautiful playful design showcasing the little Valentine will catch instantly catch the visitor's attention. Aside from the design, the suggested discount stands out most prominently. Users will readily share their emails, which you can use for other campaigns. 
Use Spin The Wheel Pop-Ups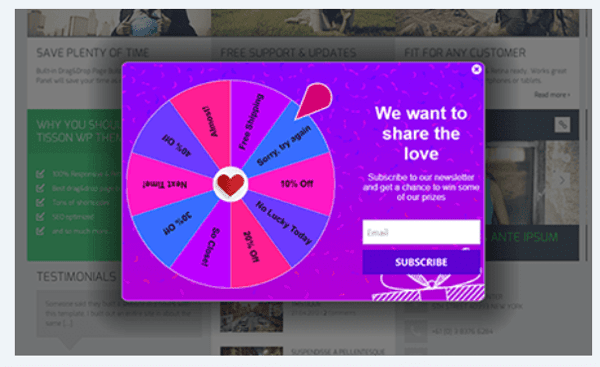 Gaming pop-ups make visitors interested in your products. The catchy line saying "We want to share the love" creates a warm feeling, and customers feel that you care about them. It offers small give-outs, and there is no way that users are going to lose. The only thing that is needed from users is to give their email to get the give-outs and presents.
Use Exit-Intent Valentine Pop-Ups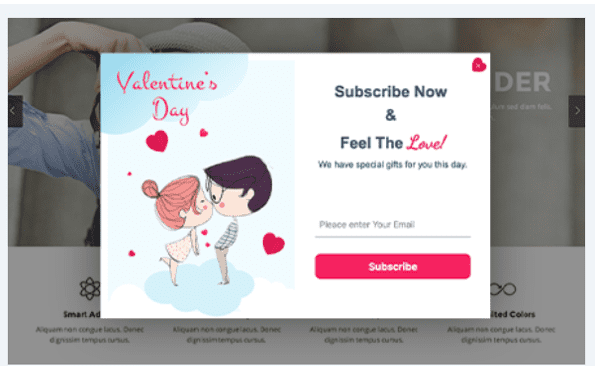 Exit-intent is behavioral, and they sense when the users are about to leave your website. It is easy to change their usual design into a more festive one, just like the one in the pop-up template example. With a special sign saying "Feel the Love," it will get the attention of your clients, making them subscribe for new updates and sales.
Use Give out Pop-Ups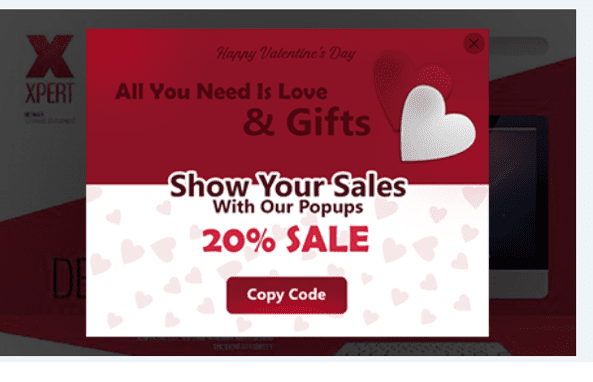 Aside from Spin the Wheel pop-ups that make pop-up sales playful and fun, there are special pop-ups featuring coupon codes. Coupon code pop-ups ask for one additional step from visitors offering small gifts and discounts that will help increase your sales for your holiday products. It also combines the overall holiday spirit in its simple design that will not interfere with your website and overload the browsing time.
Use Limited-Time Special Offer Pop-Ups

Limited-Time Special Offer Pop-ups are always a good idea to implement in your online business web page. Since they typically create a sense of urgency and lead clients to purchase without second-guessing. Specifically, during this shopping season, pop-ups sales will make customers buy the items they want to. Keep in mind to update the pop-up and avoid showing it more than once to the same users.
Create Limited-Time Offer Coupon Code Pop-Ups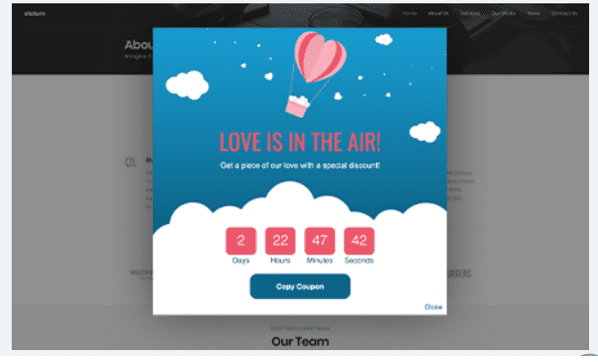 In the following example of the pop-up, there is a combination of limited-offer pop-ups with coupon code pop-ups. Of course, the time set in this example is comparatively less, and you can set this pop-up to appear when someone is about to make a purchase or has spent some amount of time on your landing page. Also, the design is sweet with catchy phrasing and clearly visible "Copy Code" bare.
Conclusion
Valentines Day is a special day for marketing specialists as it increases overall year sales. This is one of the few holidays during which the competition to raise more sales gets more challenging and complex. It is important that you trust designing pop-up templates for your website to professionals who will help you grow your business. We can create unique designs just suitable just for your website. Also, all the pop-up templates design that we have included in the list can be changed any way you want to.